Notes on shooting "United States of Tara"
Started shooting on September 2, 2008. Finished November 25, 2008. 11 half-hour episodes for Showtime / Dreamworks (Episodes 2-12), plus 4 days of reshoots on the pilot (Episode 1). Will air in late January. The show is centered around a woman (Toni Collette) named Tara who suffers from multiple personality syndrome, and the effect this has on her family.
Pilot was shot by Uta Briesewicz. 4-perf Super-35 16x9, all on 5218. Panavision cameras. Most of the pilot was shot on a short zoom (I think the 27-68mm T/2.8 Panavision lightweight zoom), no filters. Technicolor did the lab work and telecine (Complete Post). Everything was transferred to HDCAM for dailies and final tape-to-tape.
Showtime mandates digital origination for their series, despite the pilot being shot on film. I convinced the producers to use the Panavision Genesis cameras rather than the Sony F23 (which apparently is cheaper to rent than the Genesis, did not know that). I felt that a 35mm-sensor camera would match the look of the pilot better than a 2/3" 3-CCD camera. Also there was some concern from Dreamworks about the show using digital cameras, in that they didn't want it to look video-ish… and I felt that getting 35mm depth of field would help minimize this problem.
I got a set of Primo prime lenses for the series, plus two Primo zooms, the 4:1 and 11:1.
Now my only other TV series experience was on "Big Love", where we shot almost everything on older 20-100mm Cooke zooms, a technique started by Jim Glennon (partly because the softer lens was more flattering to faces), and the common wisdom is that a TV show always uses zooms in order to save time in set-ups. But as I did the reshoots for the pilot in the first four days of production, with director Craig Gillespie, I found no problem in sticking to the prime lenses, except when I needed to zoom. Craig comes out of features and commercials and has a fairly precise, minimalist style… so primes seemed well-suited to this approach, and I didn't find any time was being lost by lens changes.
As the series progressed, I found the other directors were fine with sticking to primes, some (like John Dahl, who directed Ep. 10 & 11) were pleasantly surprised that we worked with prime lenses instead of zooms. Craig, who set the look of the show on the pilot along with Uta, wanted to keep within a minimal range of focal lengths, primarily the 35mm, which we used for 70% of all shots on the show. We also used a 40mm and 50mm (usually for the close-ups). Some directors were used to using longer lenses, so it was a bit of a struggle to get them to work within the parameters Craig favored – I'd find myself sneaking in more 75mm close-ups on those episodes, for example. When necessary, we'd use a 27mm lens for wide shots, especially when we were stuck for space. Craig didn't want anything too slick or "movie-ish" – he favored a natural look that didn't telegraph the intent of the scene, nothing too hyped up visually or emotionally.
The attitude extended into lighting. Probably the main (but subtle) difference between how Uta lit the pilot and how I lit the series was that I kept to a softer, lower-contrast lighting approach more often. I watched Craig's feature, "Lars and the Real Girl", and saw that it had a very natural look, sort of wintery, low-key but soft in contrast without resorting to a lot of fill, mainly through the use of soft key lighting. Uta felt that a TV series needed a little more visual punch than that, that contrast and more edge lighting worked better for the small screen, but I decided to not worry so much about that and shoot it like I would a feature for Craig.
This approach in lighting extended itself into how I did most of the night exteriors – generally I avoided a big backlit look in favor an overhead streetlamp approach when motivated (it was harder to do that in backyard scenes and whatnot where I had to resort sometimes to a traditional moonlit look.) Often I had a condor with two Coop lights, diffused and gelled half-orange, hanging straight down for a warm sodium streetlamp effect. Now indoors, I opted more often for a blue-ish moonlight effect when room lights were turned off, even though the night exteriors had that warm sodium look – the reason for the mismatch was simply that I was worried about the show getting excessively warm-looking indoors. When I had warm-lit scenes with practicals on, I didn't want even warmer orangey streetlamp effect coming through windows, I wanted some feeling of a difference in color and tone when a practical lamp was switched off. Also, with sheers on many of the windows, I was worried that putting orange light on them would get visually confused with daytime scenes.
We also avoided close-ups most of the time, preferring medium shots that followed the action. Craig didn't want a traditional wide master, medium shots, and close-up sort of coverage and wanted to stage scenes within a medium shot and medium focal length in only one or two angles, the camera moves motivated by the action. If we could avoid using an insert or an establishing shot, he'd be very happy. It was a nice way to work, trying to get the intent of the scene in one shot mainly and not over-emphasizing things dramatically with cuts (or music – Craig favored not having a traditional score for the series.) Now some of this approach was modified over the course of the series because of script needs and different director's tastes and style. Some episodes required more coverage than others, for different reasons.
Once we switched to the Genesis camera by Day 5 when we started shooting scenes for Episode 2, I used a #1/8 Schneider Black Frost for most shots; occasionally a #1/8 Schneider Classic Black for close-ups. Within a few episodes, however, I switched to a heavier #1/4 Classic Black for close-ups, and used the #1/8 Classic Black for most of the medium and wide shots. Extreme wide shots still used the #1/8 Black Frost (or no filter at all). The Classic Black filter is a #1/8 Black Frost combined with whatever degree of Classic Soft you want – hence why I carried a #1/8 Black Frost as a "base" filter when I didn't need more softening. The Schneider line of diffusion filters seems more closely spaced in terms of degrees of strength than Tiffen's.
I once used a #1/4 Tiffen ProMist for a fantasy moment where Tara sees herself as "Alice" (one of her alternative personalities) standing in the kitchen in front of her. I also used a #1/8 ProMist + #1/2 Classic Black for a flashback of Tara as a teenager. Otherwise, I resisted the temptation to make the show look filtered.
As I said, Craig Gillepsie directed the original pilot (now Episode 1), plus the pilot reshoots and Episodes 2, 3, and 12. The other directors came from a mix of backgrounds, some had done cable series work like "Entourage", "Weeds", and "The L-Word", others came from features, or did both TV and features.
I found the Genesis camera to be basically 500 ASA, tungsten-balanced. Used an 85B filter for day scenes, though now I think an 85A would probably have been better – the Genesis seems to have a warm bias in general – for example, pulling the 85 filter in daylight does not cause the image to go as deep blue as it would with tungsten-balanced film. In general, the Genesis tends to have a warm image with sort of a faint "powdery" red noise (at least, that's my unscientific observation) compared to the "chunkier" blue channel noise of the RED in tungsten light.
Found the 85B/ND1.2 to be rather warm compared to the 85B/ND.9. My AC's warned me that the 85/ND1.2 combo filters in general tend to be all over the map in terms of warmth. I will have to look further into this – I'm not used to using ND1.2's because I usually shoot slower-speed film in daylight, but modern trends tend to involve faster film and faster digital cameras having to cope with intense daylight, hence the need for an ND1.2.
Had some problems with patterns in clothing causing aliasing. The Genesis image is almost too sharpened-looking (on an HD monitor at least) despite the lack of edge enhancement being applied; this may be a factor of the strength of the Optical Low Pass Filter (OLPF) used, which seems milder than what the RED ONE has inside. Perhaps Bayer-filtered sensors need a heavier OLPF to reduce aliasing artifacts in individual color channels after debayering. Now Panavision tells me that some of the aliasing is a product of viewing the live signal on a 1080i CRT monitor, which seems true, though some of the aliasing problems are clearly in the original recording because they've shown up down the chain as well, like in the DVD dailies. For example, when I shoot close-ups of LCD monitors in scenes, I have to have the focus-puller defocus the image slightly to stop the moiré problems.
Though the RED records 4K RAW REDCODE and the Genesis records 1080P (we stuck to the 4:2:2 mode on this show), the Genesis image actually seems sharper – I had to use a stronger Classic Black diffusion for close-ups on the Genesis compared to the RED. I mentioned that to one DP at the Band-Pro HD gathering this week, and he said "The RED OLPF is too heavy and the Genesis OLPF is too light." Considering some of the aliasing issues I saw with the Genesis, there may be some truth to this. Now of course, the heaviness of the RED OLPF does hide or reduce a lot of possible artifacts, but I wonder if they could have gotten away with a lighter OLPF and lived with some minor aliasing artifacts. I don't know. Obviously I could sharpen the RED image in post if necessary. Part of me feels that the less-edgy look of the RED seems more "film-like" than the crisp Genesis image, but other times, I wonder if the RED could stand to be a little more "edgy". But it does make me come to the conclusion that all the current high-end digital cameras are ultimately rather similar, resolution-wise. Of course, that makes the RED all the more impressive being at least a quarter of the cost of these other cameras.
This difference in look recently popped out at me when I saw the trailers for "The Spirit" (which I now hear was shot on the Genesis) and "Knowing" (shot on the RED), both projected in 2K – "Knowing" was not as crisp-looking as "The Spirit". On the other hand, the color-correction of "The Spirit" is incredibly hi-con, which increases the sense of sharpness.
A "TR Board Error" message occasionally pops up on the Genesis, more often on our B-camera, but Panavision said to ignore this. Seems to be due to some communication interface between the SRW1 deck and the camera processor.
I say that the main practical differences I found between using the Genesis and the RED on a shoot could be covered in two areas: (1) size & weight (the RED is much lighter) and (2) noise and speed in tungsten light (the Genesis is better in this regards.)
Lighting-wise, I ended up using Woodylights a lot more than I thought I would. They are made by my gaffer Keith Morgan. They have a 2'x3' medium Chimera bank on them, four bulbs (usually 212's I think), plus one 1K EGT globe, and a dimmer knob. At first, I wondered why they would be any different than sticking a Chimera on a 1K, but the ability to switch on different light bulbs or switch to one 1K globe, and to dim them, made it simple to throw a little soft light anywhere on the set quickly, or put a soft edge on an actor, or even key them. See:
http://www.woodylight.com
I also used the Source-4 light a lot, usually with the 50 degree lens, for a bounce fill or key. Sometimes used a 36 or 27 degree lens for a hot slash on objects, actors. Also would use a bedsheet on a wall or floor and bounce light into it, often a couple of Tweenies. I picked up these tricks from Bill Wages when I worked with him on "Big Love". I think the actresses liked it when I used the big bedsheet bounce for their close-ups because they knew it was an extremely soft light.
The sets had muslin ceiling pieces with a small spacelight above, or a Cooplight. This was a quick way of adding some ambience to the room when the ceiling was not in the shot.
There was a dimmer board controlling our two soundstages, including practicals, outlets, and wall sconces.
We had an HMI package for location, plus two Joker 800 Source-4's and two Joker 400 Source-4's. And Kinoflos of course.
I bought a Micro Litepanel for use on the camera, or as a hidden light. I'm really happy with that purchase. It's very light, uses four AA batteries, and is quick to set up.
We sometimes pulled the fresnel out of the 2K, 5K, 10K, and 20K to create sharp patterns of moonlight or sunlight (in the case of the 20K). With the fresnel pulled out of the 20K and backed up, I got a nice hard sunlight effect through a window with believable shadow patterns from blinds, etc. but the intensity was not great – for one wide shot of a room, I had to switch the shutter from 180 to 270 degrees and open the lens to T/2.0 just to get the sunlight pattern to be overexposed realistically.
(At Band-Pro event, I just saw a light from K5600 called the BlackJack 400, see:
http://www.k5600.com...j400/index.html
It has a really wide spread, and without any lens, produces a very sharp, clean shadow pattern. May have to get one for my next show…)
Our house sets were built at Occidental Studios near Silver Lake; because of size limitations, I often only had five feet of space outside the windows to create all the daylight effects and create a daytime view. We hung space lights above each window (actually Uta Briesewicz had ordered that for the pilot, but it worked well) and I had various lights crammed in that small space, often Mini 9-Lites. Plus I had to fit trees in that space to break up the view of the day-blue material hung all around. Right outside the kitchen window was a white pillar that was part of the soundstage's support. We ended up wrapping it in fake bark to make it look like a tree trunk outside, but it was in the way half the time, so it became incredibly annoying.
One trick I have picked up over the years is to blur an unconvincing or unwanted view outside of a window is to cover the window with Half Hampshire Frost diffusion gel. It throws the view out-of-focus, which hides a multitude of sins.
Anyway, here are some photos from the shoot:
This is a night exterior, lit with an overhead effect using Cooplights in a condor. I also had a 1K parcan in the condor providing the spot on the ground under the streetlamp on the left. I hid 2K's in the trees to add some light deeper on the street and there was a 5K around the corner in the background to rake the far houses: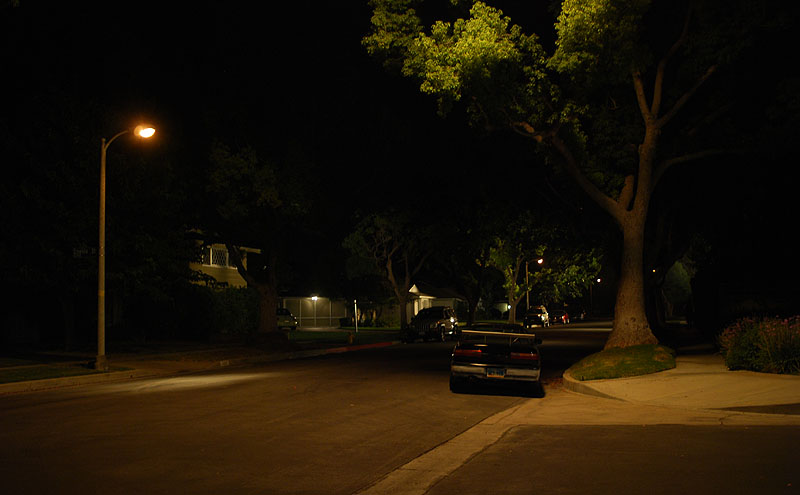 Here is another location at night with the same rig on the condor: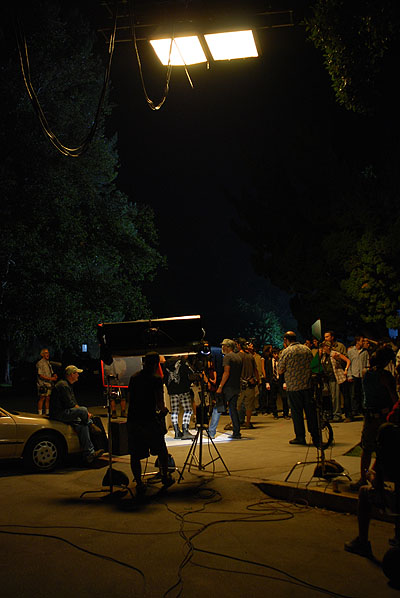 This is a classroom, lit by bouncing a Source-4 / Joker 800 HMI combo into a white card at the top of the windows: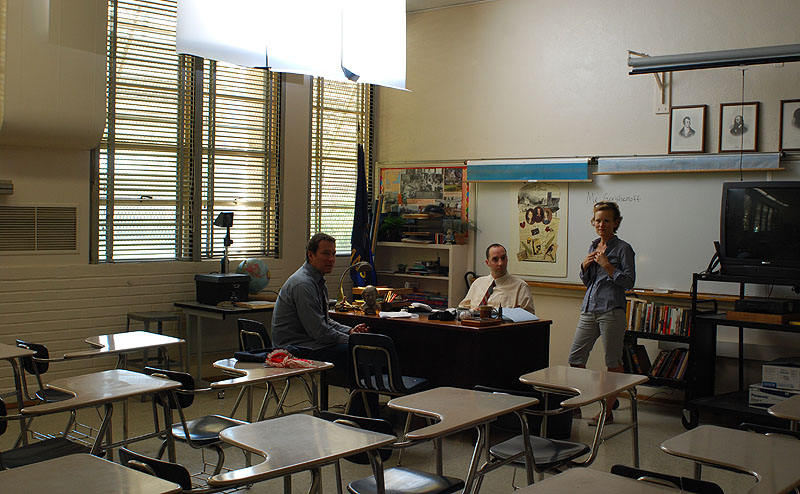 A-cam 1st AC Dominik Mainl and Operator Chris Squires: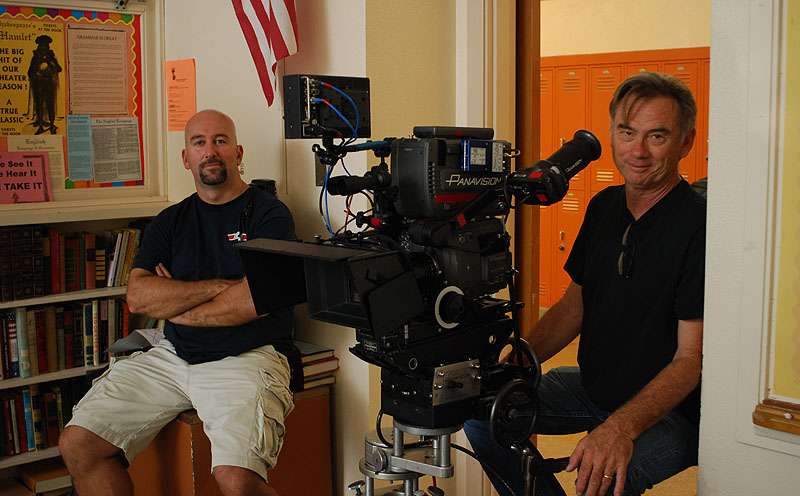 This shows you the narrow space outside the kitchen side of the house set, bordered by the dayblue cyc running along the fire lane (the fire lane is not blocked, it's behind the blue curtain):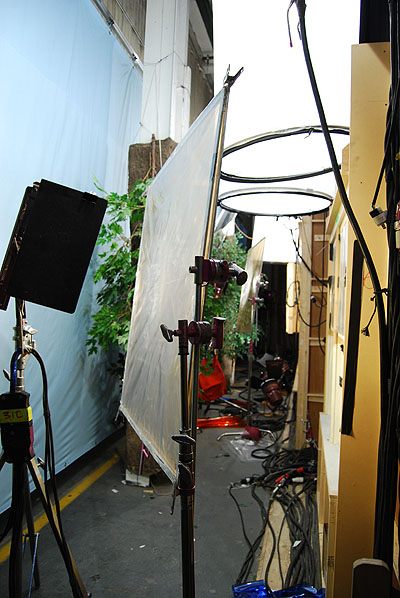 Here is the kitchen itself, lit for late afternoon with half-orange light coming straight in through the windows (hence the orange gel frame you can see in the f.g.):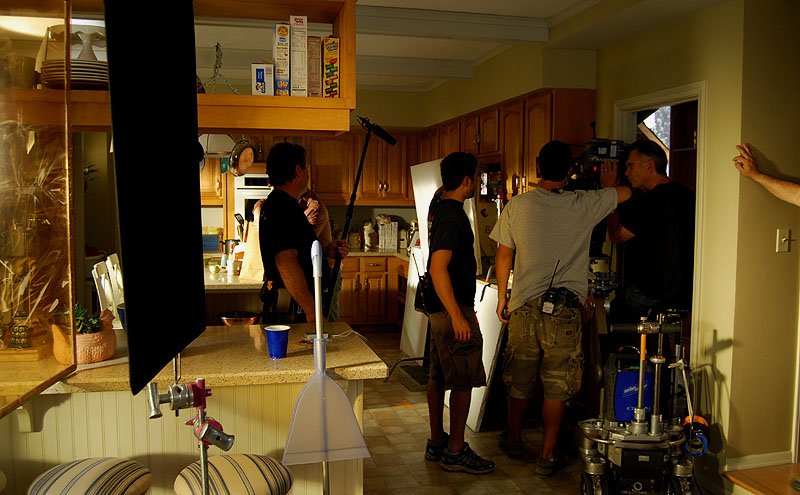 Our stand-in Bridget, with the kitchen window behind her. You can see the effect of the Half Hampshire Frost on the window to blur the trees and blue cyc. Her face is just lit by bounce cards reflecting the light coming from the window: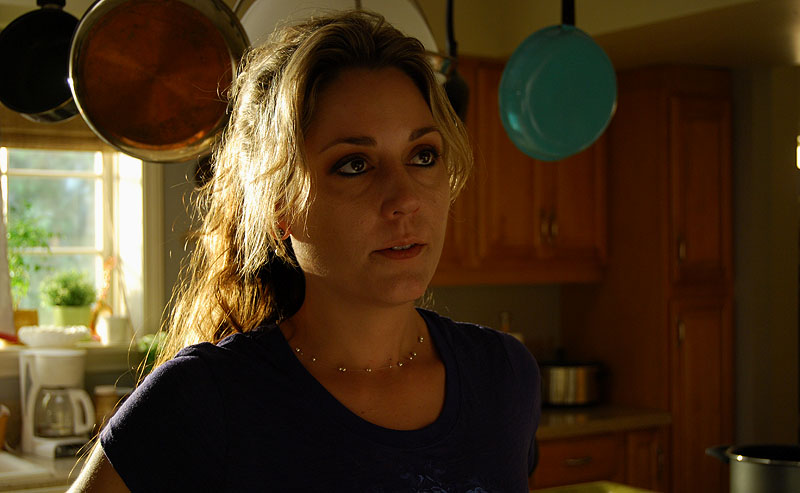 Our main house exterior was surrounded by big trees, creating a problem of really dark shade with a hot center where the sun came between the two trees, hitting a white garage door. The solution was the build a "flyswatter" – a 20'x20' silk hanging from the condor we brought to light the night scenes at that location: