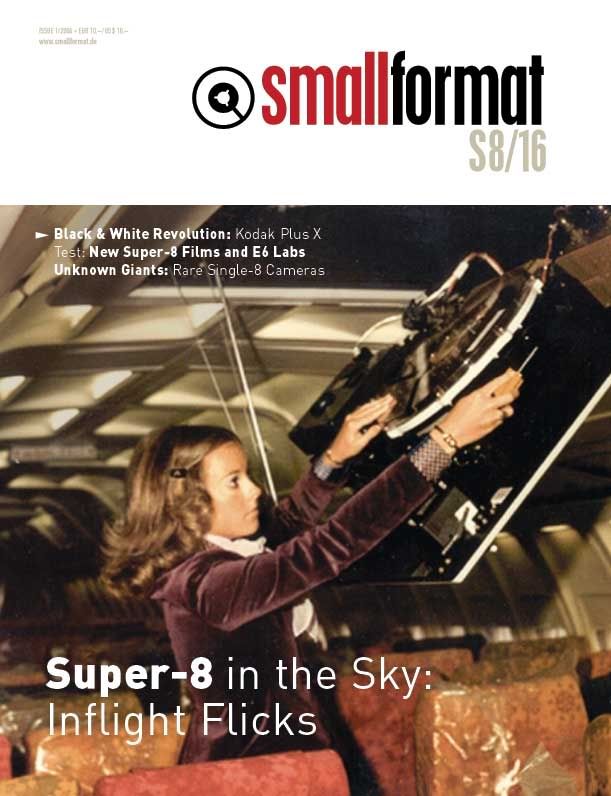 SMALL FORMAT 01/2006 WILL BE SHIPPED NEXT WEEK:
NEWS
final processing dates for all Kodachrome Super 8 film and Kodachrome 16mm film
photo and film fairs around the globe
2006 awards
the end of Kodachrome 40 in 16mm
new Fuji Eterna and Reala film stocks for Super 8
TEST
smallformat tested five E6 labs and the new GK-Film Cinevia and Ektachrome 100D film stocks in Super-8
screening
THE REFRIGERATOR CINEMA
Johan van Gend from Utrecht, The Netherlands, has a wonderful movie theatre under his roof
interview
HALF A LIFE FOR PERRY RHODAN
Hans-Joachim Thunack spent forty years making an 8mm science fiction movie
zoom
VIDEO SUCKS
Micah Toub met some Super 8 Heroes who will stick to film
time lapse
INFLIGHT FLICKS
Michael Gubisch looks back at the great time when Super 8 and 16mm projectors put on a show in airplanes
the old babies
REDISCOVERING AN OLD NIKON PROTOTYPE
Jürgen Lossau dug into the history of the famous Japanese company and found a camera that didn?t see the light of the showcases
labs
HIROHAZU OKAZAKI KEEPS SINGLE-8 ALIVE
A visit to the Fuji lab in Tokyo
single-8
THE UNKNOWN GIANTS
Jürgen Lossau presents some portraits of rare Single-8 cameras with additional commentary by Japanese Single-8 expert Muddy Orihara
power pack
ALL IN THE FAMILY The full list of all Single-8 models ever made
movie school
EXCEPTIONAL EDITS MAKE THE DIFFERENCE
says Arnold H. Müller ? and he gives many concrete examples
16mm
THE VIEW FROM OUTSIDE
How to build in a video monitor inside your Arri camera ? Let Oliver Kochs teach you
test
COLOURLESS CREATIVITY
Ronald Vedrilla shot the new Kodak Plus X black & white film stock and talks about his experiences
test
THIS DUO OFFERS OPTIMAL EDITING
The German company Hammann still builds cement splicers for 8mm, Super 8, 9.5mm and 16mm
forum
LETTERS TO THE EDITOR
Readers pass along their impressions of smallformat issue no. 1/2005
SMALL FORMAT 02/2006 INVITES YOU TO EXPLORE THESE TOPICS:
Portrait of Pro8mm
James Grahame visits America?s largest small format film forge in Burbank, California. Film cutting, processing, digital transfer - our reporter takes a look behind the scenes of this company and interviews company president Phil Vigeant.
Digital Film Transfers
Trevor Markwart transferred his raw Super-8 footage as uncompressed 10-bit 4:2:2 direct to hard drive SDI, the maximum possible for Standard Definition. It is NTSC 720 x 486, essentially the same as digiBeta in image quality. He introduces six international transfer services that will conjure small-format film to digital signals for the hard drive.
Winners and Losers
Heiko Riemann lists a lot of Super 8 movie cameras. He tested their ability to shoot at ISO/ASA 40 and 160, and also at ISO/ASA 50, 64, 100, 200, 250 and even 400. Which cameras will be useless in the future, and which models are particularly commendable for their ability to run all new kinds of film stock?
British Film Collectors Convention
John Clancy writes about the BFCC - the best and original film collector?s convention in Great Britain. The conventions are held at the Ealing Town Hall in London. Super 8 has been the mainstay of the convention since its inception and this is still largely the case, although the BFCC now enjoys 35mm shows as well as long established 16mm shows.
Monsieur 9.5mm
Jürgen Lossau about Daniel Colland and his large-scale lab Ciné Dia with 57 employees. He has more than 1,000 customers worldwide still working with 9.5mm cameras. A club in France alone counts 250 members, all of them using 9.5 mm. But he has a lot of customers also in Great Britain, Spain, Germany, Sweden, Belgium and Norway. Colland uses Fuji Velvia from Japan. It is 35 mm wide and unsprocketed. Out of this material we make three strips of film 9.5 mm each with centered sprocketing.
Flashscan 8: The New Film-Scanner
MWA-Nova of Berlin, Germany, presents a new real-time film scanner for 8mm, Super 8 and 9.5mm. The Flashscan 8 has been developed to offer a truly professional method of scanning these formats in real time, at a price that is cheaper than a Super 8mm gate on a traditional Telecine, whilst providing the same if not better results. Features include: all analogue video output formats (SDI optional); sound head; variable speed 25 frames - 3 frames per second; integrated primary and secondary colour correction; negative scanning. Users report their experiences.
www.smallformat.de