Caught this movie this weekend and really enjoyed it overall. Has a genuine US midwest feel along with an Altman sensibility. The cinematography was excellent, I really like Ed Lachman's use of color.
The only complaint I have is the artifacts in the green & cyan highlights, apparently this is a problem with the Sony F900? You can't really tell based upon these screen caps of the trailer, but in the theater the green on Lindsey's blond hair and the cyan used in Woody Harrelson & John C. Reilly's routine would have issues: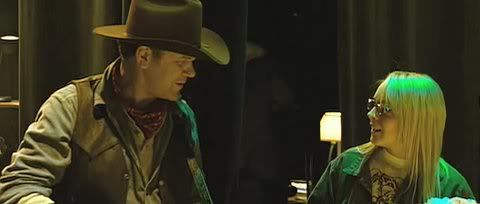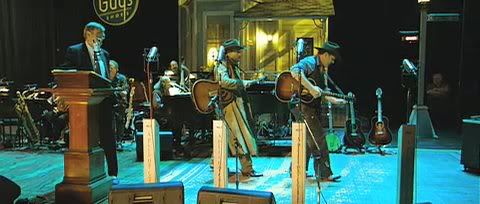 The latest ASC has a good article on it, (excerpt quote from Ed Lachman) but I'm still unclear what the real problem was:
?I generally work with a lot with gels, and I like to manipulate color temperature. I use color contrast within the frame, and it?s very important to me how one color plays against another and how that comes back on film. I discovered that digital [sensors] were more responsive to some of my gels and less responsive to others than film. For example, purples and blues responded differently than they do on film, warm colors tend to bleed if they?re very saturated, and some portions of the green spectrum can be very hard to capture. As a result, I had to do a lot of experimenting with gels to get the results I was after.?