Having just finished reading British director's Ronald Neame's autobiography "Straight From The Horse's Mouth", I decided to rent an infamous sci-fi/disaster movie from my teenager years that I had missed (rather than rent one of his more important movies -- I'll do that later...)
In the book, he said this:
"What changed the film from being something I could have been proud of to a horror were these special effects. The head of that lamentable department has insisted on taking his own camera on location. The producers accepted his request, despite the advice of our cameraman, Paul Lohmann, who wanted him to take a guaranteed steady Panavision camera. He assured us his own was equally steady -- but it wasn't. Consequently the footage he filmed could not be "married" precisely to our shots. No amount of lab work could put it right."
I guess this is a counter-example to the notion that you can't trust a rental house camera...
Anyway, one of the optical printer composites he was talking about was for an exploding mountaintop, hit by a meteor -- you can't tell from a single frame but the composite is REALLY unsteady: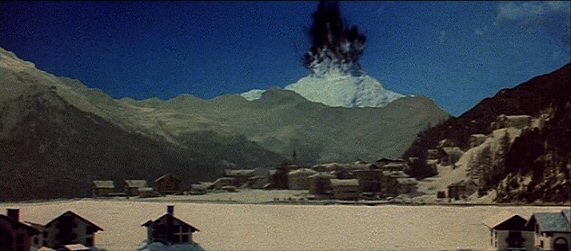 Here is an in-camera effect (thus not as grainy) of a NASA spaceship passing in front of the "sun" -- except that you can clearly see the open-faced lamp behind the model: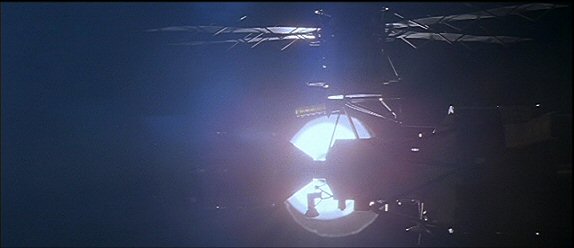 And here is an example of a bluescreen composite: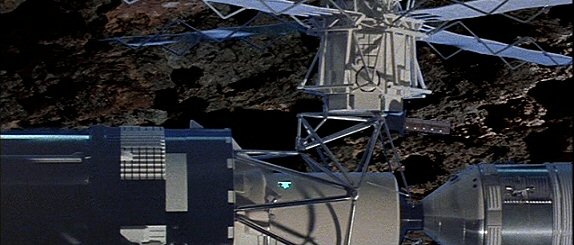 Just thought it was interesting to see these for anyone who had overly romantic notions of the pre-digital optical printer efx compositing days. It also shows the reason why it was a good idea to shoot efx elements on a larger negative to counteract grain build-up when duping.
I suppose it's even possible that the efx cameraman using his own camera didn't even shoot with anamorphic lenses (the live-action was Panavision anamorphic), which may account for why the snow scene is so soft, if 2.35 was extracted from Academy.