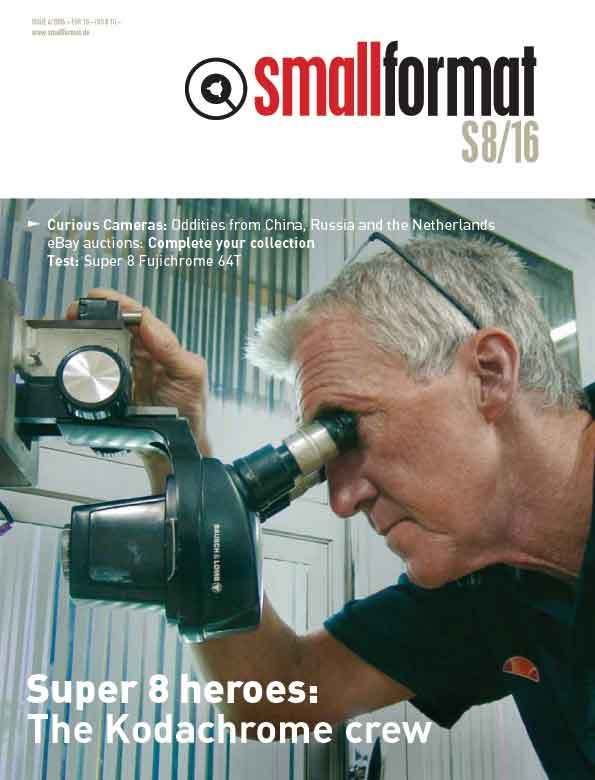 The Contents:
clapper GOOD KODAK, BAD KODAK Jürgen Lossau about a former yellow giant
viewer news from WIDESCREEN CENTRE, KODAK, CULLMANN and MWA NOVA
the old babies WANTED! Jürgen Lossau about curious cameras (part 2)
16mm HISTORY IN 80,000 FRAMES Manfred Walther shows the construction of Berlin?s famous Potsdamer Platz square in one hour ? in a timelapse movie
screening PICTURES EVERYWHERE Ronald Vedrilla visited Dan Schwartz's movie photograph archives
screening OUT OF THE BOX Keith Wilton and John Clancy tell us the history of the package movie (part 2)
super-8 ELEGANT SIMPLICITY James Grahame about Roger Evans and his Telecine products
movie school SUPER-8 IS SUPER! Dr. Carl-Hellmut Hoefer?s basic training for beginners and enthusiasts (part 3). This time he discloses which film splicer and film viewer one needs for the hobby
movie school RELATIVE TRUTHS AND TRUE LIES Ronald Vedrilla about delusions with false undertones
timelapse THE CAT NO LONGER VISITS Jürgen Lossau says goodbye to the people at the Kodak lab in Lausanne
power pack WHEN COLORS FADE Ronald Vedrilla about stability of color films
power pack A HEALTHY ADDICTION Jürgen Lossau shows the art of unearthing moviemaking treasures on eBay
test 64T TIMES TWO Bernhard Hoffmann about Ektachrome 64T and Fujichrome 64T
forum LETTERS TO THE EDITOR A lot of opinions concerning issue no. 03/2006 and the proposed Ikonoskop A-Cam for DS8
Exclusive for forum members of cinematography.com:
History in 80,000 frames
Documenting the construction of Potsdamer Square in an hour
Text: Manfred Walther
I was born in 1961 and grew up in West Berlin along with The Wall, witnessing the world politics of 1989 at my front door. The Wall fell and, amidst all the emotion, the city began putting on a new face. One particularly historic place in this connection is the Potsdamer Square. I used to know the place just as land marked by inactivity in the shadow of the built-up part of the city, and as a legend of the past in which it had played a cosmopolitan role once before. In 1990, taking advantage of time-lapse photography, I began capturing The Wall coming down at Potsdamer Square on Super 8, and later I filmed the two-month construction of the stage for Pink Floyd's ?The Wall? on what used to be no-man's land. During this work, the classic Nizos 481 and 801 with their integrated timer functions that include extended time-exposure demonstrated sustained reliability. I began exposing Kodachrome 25 material in parallel, using a Beaulieau R 16 G ? a 16 mm clockwork camera. In 1992, being courageous ?in advance,? I switched over to 16 mm negative material. The improved quality gave rise to my wish to shoot a longer documentary about Potsdamer Square ? including the option of showing the film later on the silver screen.
Even in 1987, Daimler Benz was looking for an estate at Potsdamer Square to build their new headquarters. Sony reacted immediately in 1990, securing land in the new heart of Berlin. Through their work, international architects would considerably change the face of the city past the end of the millennium. At the time I started shooting I had little idea what was in store for me, nor had I any vision of what the finished work should resemble. The only thing clear to me was that I wanted to use time-lapse photography to capture the changing cityscape that was initially estimated to take eight years, in no more than 90 minutes.
An example: To fill an area of 400 m2 with concrete using several concrete pumps takes about five hours in reality and is boring to watch. Time-lapsed to 20 seconds, however, one understands what is going on and can even enjoy it.
Good work, good tools
From 1992 on, when my Beaulieu gave up, I exclusively used Bolex Reflex RX1 through RX5 cameras. There were several reasons: The Bolex rewind shaft can also be used to make the camera run forward. In this manner, an electronically controlled drive was created that allowed speed intervals from one frame per second to a maximum of one frame every five minutes. This was the only way the later soft time-lapse pans, zooms and night shots became technically possible.
My equipment needed to be bicycle-proof, since there are never parking lots at a construction site of these dimensions in the city center. The Bolex is small enough to fit into a camera bag, even with additional equipment. The tripod goes on top and you?re finished. The Bolex was forgiving. My cameras accepted falls and many other kinds of mistreatment without complaint. No Beaulieu, which often fall to pieces after nothing more than a close examination, would have survived the bicycle mileage over curbs and unpaved roads.
I exposed about 10,000 meters of film in total, about a third of it using the cable release. To depict sequences of machinery in motion such as excavators that are free from jerks, one needs to work with variable frame frequencies that can only be achieved manually by watching the event. Many scenes document sequences which required several hours in which light conditions often changed drastically, requiring me to adjust the aperture slowly in increments of a tenth of an f-stop. The same problem had to be surpassed to achieve soft transitions between day and night. The aperture needed to be opened in the smallest possible increments and, in parallel, the exposure time had to be correspondingly extended. This happened within the exposure range of f:16 at ½ second through f:4 at 20 seconds. All within a two hour time span.
Know-how instead of budget
To relieve the rigidity of mostly fixed camera shots during time-lapse shooting, I started using pans to compose shots in 1994 - later on I added zoom shots. For this purpose, I used transmission gears and slow motors that are common in model-making circles. They were attached to some utilitarian drive units.
To realize eye-pleasing pans, the tilting head was equipped with a strongly reduced drive ? rotating so slowly that its motion could be visualized only in a time-lapse shot. One of these pans marked the middle of the film. In reality it is 60 minutes long, although this 360° pan is only 60 seconds on film. Thus, it consists of 1,440 single frames. That requires one frame every 2.5 seconds along with the indiscernible rotation of the tilt head by 1 degree over ten seconds. An Angenieux 2.2/12-120 mm zoom lens was equipped with a similar drive unit. The crank to vary focal length was replaced by a toothed wheel which was in turn powered by a strongly reduced drive. In this manner, a zoom travel throughout the entire focal range could take up to 50 minutes.
Between 1996 and 1999, the development of Potsdamer Square entered its most intensive stage. Coping with this fast progress in terms of shooting brought me to the limit of my financial abilities. Fortunately my expenses for material and its processing were distributed over a period of ten years, thus enabling me to finance this project by myself until 2001. Of course, I continued to work at the ASA 90 photo shop in Berlin-Neukoeln, one of the last places in the capital still devoted to amateur film. My family and workmates always gave me special support and encouragement.
I compiled a 70-minute preliminary edit in 1999. At this point Andreas Czeschka entered the stage. We have known one another and shared the same musical preferences ever since. He signed on, fully convinced that it would turn out to be a phenomenal movie. Over the following three years we spent endless hours in the basement of ASA 90. We recorded some samples, processing music and images synchronously in one unit, using a Meoclub electronic 2 running at 25 fps, projected and recorded on S-VHS.
The videos we created were insert-edited to musical compositions. Then the final edition was digitized by Joerg Kretschmann and imported to build the foundation for the final film music in Steinberg's Cubase. 14 pieces of music were created in this home-like atmosphere. We repeatedly synchronized music to picture and vice versa.
The final product and no end in sight
While the film was burned into the minds of all participants as more or less finished, production of the start and end credits once again proved to be a difficult task. We had prepared an overview of the title sequence, appearing as a video mixing desk using split-screen Super 8 shots. Dramatically, this appeared quite good. Everyone wanted split-screens, but nobody had any idea how to combine them with the credits ? in the usual DIY manner ? onto celluloid.
To capture this sequence on film, Joerg Kretschmann developed the following procedure: The Super 8 material was filmed using a 3-chip camera and combined with the text in the computer. This video edit was the source of a total of 3,000 frames which had to be transferred onto film frame-by-frame. To record on 16 mm film, a Bolex RX4 was placed parallel to the computer screen. The exposure time of each individual frame was approximately four seconds. Frame advance was realized using Irfan View viewing software which is available as freeware.
To synchronize the computer with the Bolex, a little microswitch was added to the motor drive shaft. It was connected to a computer keyboard and emulated a space keystroke after each exposure, activating a frame change with the help of the viewing software. This enabled an automatic procedure which transferred our 3,000 frame title sequence onto film in a single batch during the night. The same procedure served to generate the two minute final credit sequence.
In addition, Joerg Kretschmann spent several sleepless nights busy with critical adjustments of the computer image to match the film material?s contrast. In this case 50 ASA Kodak 7245 daylight film was used.
Now everything moved quickly
By submitting the film to Berlinale 2002, we set ourselves one final deadline to get the film finished. Thomas Erbach, a commercial film producer at Diesel & Duenger in Berlin, provided short-term financing to complete the image editing and finalize the audio mix. He encouraged the FX Factory in Berlin to invest a few hours into the project. Following an invitation from the International Film Festival to join the ?Perspective German Cinema? series, Film Promotion Berlin/Brandenburg financed a blow-up to 35 mm film, including Dolby SR sound.
The film had two great screenings at Berlinale, accompanied by previously unknown public interest. Following that, it was shown at several international film festivals. Now, four years after the motion picture premiere, my 80,000 SHOTS has been released on DVD. Reflecting the end of the 20th century, and with the help of countless friends, I was able to turn my dream of producing a film using traditional means into a reality.
Naturally it is possible to achieve much more accurate and less coincidence-dependent animation results using modern digital technology. But work with physical material demands concentration on the details and has its own charms that I succumb to time and again.
Technical details inside the new issue.
Juergen Lossau
www.smallformat.de