So I'm not a fan of 48-hour film fests. I never, ever, ever direct them, and if I'm involved in any way, I tend to keep it to the "helping out on set" level as a favor. Well this one became a much bigger favor. I wanted to really get dirty with the HVX200 and see what we could do, so I co-DPed this with a filmmaking buddy of mine, Nathan Drillot. The two of us shared lighting and camera duties, essentially making us DP, grip-electric, camera op, and 1st AC. We had two guys helping as G/E.
I'll keep my... uuh... criticisms... about how the set was run to a minimum, because this is really about my first experience shooting with the HVX on P2. We shot in 720P in 24Pn. We had 2 4GB cards, and on-location (We shot in a autobody shop), upstairs was an editing suite: Macbook with a P2 slot. As soon as a card was full, we'd send someone to run it upstairs and unload into FCP, we'd quickly double check that it was all gravy, and then clear the card and send it back down. Basically, this was an epiphany for me. I cannot imagine ever going back to tape, nor working on something like a firestore. The P2 workflow - and ours was a ROUGH one, with no fancy software to automate, duplicate, and archive - was a dream come true. I've never in my life shot anything with this level of convenience. We had two minor hitches: The first, we found ourselves missing a shot. We had already cleared the card, but nowhere in the system was the shot found. Lucky for us it was easy to recreate, a standard point of coverage. I emphasize the luck: We hadn't done much testing to iron out the workflow, and we knew what we were getting into without going through a duplication and archiving process. But this only came up once, LUCKY for us.
The other hitch was a shot that had a major glitchy blip. It wasn't like digital artifacts in DVCAM, it really looked like a bunch of pixelly green chunks of nastiness over the shot for about a frame or two.
We quickly discovered our visual style for the film, the lighting went particularly quickly. The camera work took a bit, but we eventually found ourselves doing what generally goes completely and utterly against our aesthetic in every film we do - but we shot gritty, handheld, long lens. I tend to hate the Tony Scott aesthetic, but I can't imagine us shooting this one any different - all said and done, it worked really well for the show, and it gave plenty of opportunities to roll with new on-the-day ideas and interesting shots. We always were on the lookout to shoot things a little bit differently, and we weren't interested in rushing the look - We found ourselves going for a style that's really not ours (it sort of just evolved that way), but the goal was to at least do it WELL.
I should also mention that on my LCD computer monitor, these screenshots look way way darker than they did in-camera and on our FCP system. I find that when I tilt my monitor down and look at it a bit from above it's closer to the original brightness, but hopefully other people are getting an accurate representation here.
Also, we didn't do anything in post, the look was all in-camera, which was nothing drastic amongst the camera's settings. Mostly just lighting and camerawork.
We tried to mix color temperatures as much as we could. On a few occasions we'd put a 1/4 plus green on our tungsten units to sicken them a little, and our other lights were uncorrected daylight. We had a light I'd never used before, a Lowell Case Light fluorescent fixture, with mirror doors. It was way way punchier than a kino, and the mirrors really helped add a bit more when we needed it. The stand was sort of a pain... but overall it worked great for our purposes.
We always stayed on the lookout for ways to separate our actors from each other. The story was a sort of 28-days later thing (not our choosing, it was the 48-hour festival's theme), so we had a trio of characters who fell apart as the fear grew that one of them may have been "infected". Sort of derivative, but better to play the story safe and nail the production value for a deal like this, at least in my eyes. Genre isn't tough to do - the formulas are legion and for the most part they work.
Why the long lens? This is why. We'd have shot with a redrock adapter, but we really were unprepared and under-crewed to tackle something like that, considering particularly that we shot what's basically a ten minute movie in 15 hours.
I like this shot - it's almost identical to one I did on a short film last year, Bright Lights. (
http://i118.photobuc...stitt/vinyl.jpg
). There's just something about coolly-lit music equipment I guess.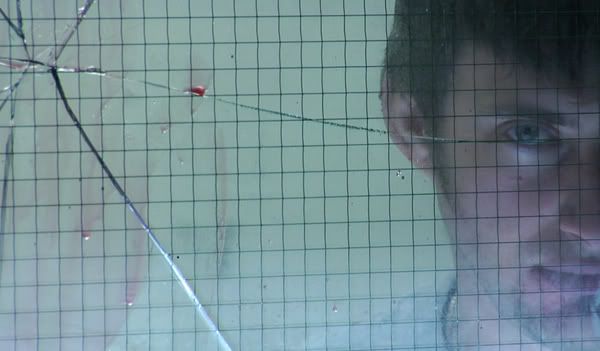 A happy/not-so-happy accident in which the actor went ballistic during a take and accidentally smashed a window gave us all sorts of cool cinematography opportunites.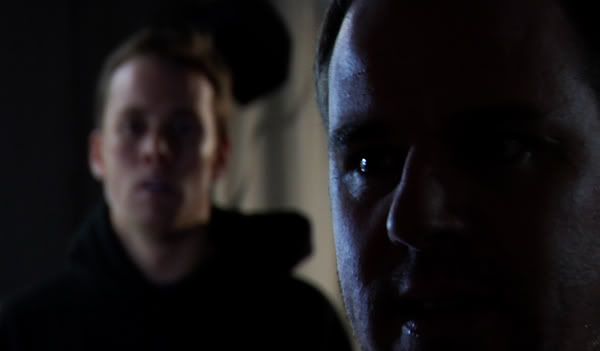 This is a cool shot in motion - What happens is our pissed off friend in the foreground crosses and exits frame to beat our other guy, off-camera, with a wrench. We stayed on the dude in the background as he reacted, but stayed soft, as we blacked out to the sounds of a good skull-beating.
What's a horror film without a good blood-pukin' in a nasty green bathroom?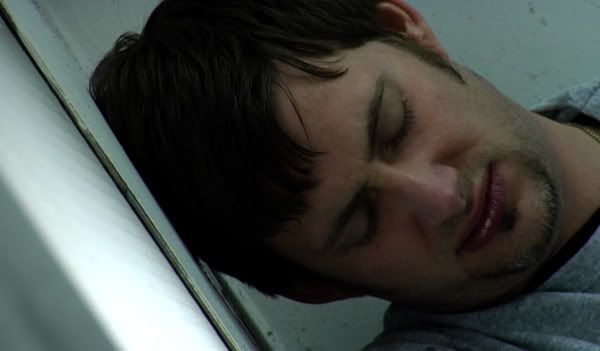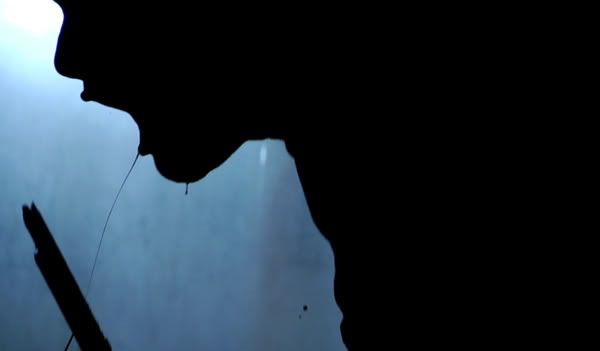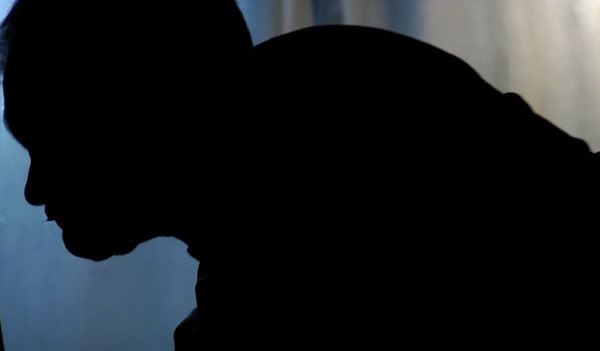 These last two were the climactic fight scene between the final two survivors. The plastic curtain is half-backlit by tungsten, half by daylight. We cranked the shutter speed to give us a sickening jitter and basically you have no idea what's happening in the fight, but it looks (and sounds) nasty. Screenshots for this scene are sort of useless, as long-lens/handheld/gritty does not always come across in stills.
Anyway: Final thoughts: I am unbelievably impressed by the HVX200's abilities. Surprised at how less light-sensitive it is compared to the DVX, and I understand that with the Redrock adapter this will be cut by an additional stop, and all of a sudden we're in a strange position: Shooting digitally is far less light-sensitive than shooting film on something like 5218. Fancy that.
At the same time, we played with overexposing a bit in this film during a couple of scenes and it actually looked nice - something I've been far more hesitant to do digitally.
But the big winner here is P2. I've been born again.