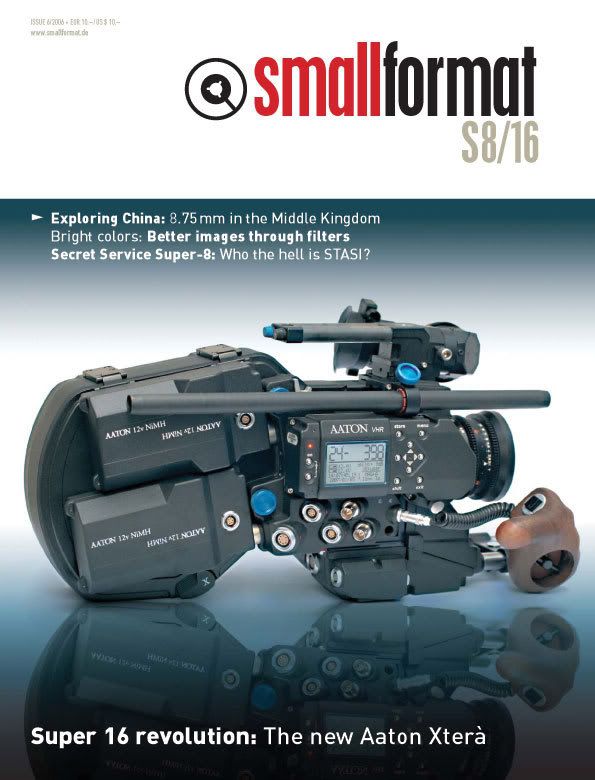 Well, we are a little late with our magazine 6/2006, I know, but we will have the newest news about Fiuji Single-8 and about the Aaton Xterà Super 16 inside the new issue. It will be printed now and shipped in two weeks. The issue 1/2007 is about to follow immediately.
clapper SINGLE-8 SENSATION by Jürgen Lossau, with photos of Chikage Ogi
viewer NEWS from your new hairstylist in Venice, a reindeer for Christmas and 16mm film that becomes, all of a sudden, 9.5mm film
screening 8.75MM IN THE MIDDLE KINGDOM Travelling through China ? with Karsten Weber
screening OUT OF THE BOX John Clancy and Keith Wilton review the big British names associated with package movie film distribution ? like Mountain and Walton
super-8 WHO THE HELL IS STASI? Claus Krönke may have the answer. He investigates the use of Super 8 cameras by the former East German Secret Service
super-8 CARTOONS BEHIND BARS Helmut Savini has a very special hobby: He encourages young offenders to become filmmakers
timelapse MUSEUM IN THE MIDDLE OF THE ACTION Ronald Vedrilla walks in the footsteps of film legends at Lone Pine in the American Southwest
16mm A PROFESSIONAL CAMERA FOR POCKET CHANGE Ole Dost shows off his Russian Kinor 16 SX-2M 16mm movie camera
16mm SUPER 16 REVOLUTION Have a look at the brand new Aaton Xterà
the old babies Bernard Violet visits French projector specialists Buisse & Botazzi
movie school BETTER IMAGES THROUGH FILTERS Dieter Müller explains how to work with lens attachments
movie school SUPER 8 IS SUPER! Dr. Carl-Hellmut Hoefer looks at lenses in the fifth part of this series
movie school CLOSE ? OR OFFENSIVELY CLOSE Ronald Vedrilla shows the power and effect of close-ups with examples from well known movies
power pack MAGICAL GREY BOXES James Grahame visits Clive Tobin?s Telecine workshop
forum FROM THE NEWSPAPERS ?Loading for takeoff? is an article about a new generation discovering Super 8 by Liz Kim from the Columbia University School of Journalism, New York
Have fun!
Jürgen Lossau
www.smallformat.de