hello,
i currently own a Hugy Fot housing for the Bolex EL 16mm camera very similar to this badboy: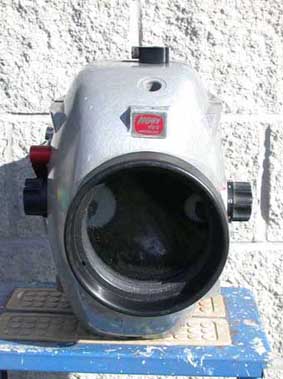 I might have a slightly earlier model (or later? no idea...) as mine has a different port on the front that looks proportionally smaller and is not plate glass.
Instead the port is flat on the front but works somewhat like an aspheron on the rear and widens the image which works well with the 10mm Switar Preset but makes the 26mm Preset have a f#$&ed up focal plane, where the outside extremities of the frame are in focus and the centre is not (this effect isn't changed when submerged) ...
I find it odd as the aperture and focus knobs and gearing are made for both the 10mm and 26mm specifically ...
Anyhoo, to the crux of my query ... I was thinking of removing the current port and replacing it with a plate glass style one so I could use both lenses and as a matter of fact use any lens that would fit in there (after having had gears cut for the follow focus/iris) - I could then even use it as a blimp as it reduces running noise to virtual zero, if I stuff more sound absorb breakfast cereals in there who know it could even be good for studio settings...
Is this a bad idea for any reason I cannot think of ?
First off, any suggestions on how to remove the current port without ruining it ? (looks glued in)
..and how would I stick in the new one so as to keep its depth specification ?
(not that I'll ever get that deep, it really has music video/pool/splash'n'surf style shooting in mind)
cheers!
Nick Mulder