We started on Weds. and had a 4-day week; after that, we'll be on a Tuesday thru Sunday schedule.
I always forget until the first day of shooting just how exhausting filmmaking is. You're on your feet for twelve or more hours in very uncomfortable conditions.
The location we're shooting in for a month is a huge high school in Bayonne, mostly built in the 1930's but with some newer wings -- it's basically a huge square building with a central courtyard with two huge wings, four floors each if you include the basement, taking up at least two city blocks. I mention this as a way of explaining the problem of moving a crew around in this huge complex with only one tiny elevator in each wing and lot of stairwells. On the days where we have multiple locations, it can be a real time-killer to make these moves. Obviously we've scheduled the movie to minimize that, but due to weather problems (needing to go to cover sets) and actor schedules, we have a few days of hopping around.
Day One was scheduled to be on the rooftops of the building, looking out towards the big shipping cranes at the port of Newark, NJ in the background across the bay. We woke up to one of the worst thunderstorms in recent memory here, bad enough to have caused a tornado to touch down in Brooklyn apparently. We all climbed up to the rooftop to look around, wondering about the lightning strikes we were seeing in the distance. The AD's plan was to start shooting a simple running scene in the hallways below the roof on the third floor, but the trouble is that it was so dark that morning that there was insufficient available light, and I had never planned on trying to light the third floor of the building. In fact the only location with enough shootable light was the rooftop. Luckily while we were discussing it, the rain stopped, so we started to shoot on the rooftop. After several takes, the morning sun broke through and by 10AM we were in blazing sunlight, causing some mismatching from the earlier stuff which wasn't bad since the early stuff were mostly close-ups. I shot a lot of the wide shots on long lenses stopped down (on Fuji Eterna 250D rated at 160 ASA) so that the cranes would not go too out of focus in the far b.g., just soft.
We then did our hallway scene, now bright enough at 400 ASA (Fuji Eterna 500T with no filter correction) to shoot at T/2.8 in available light, except for a dark area that I lit by bouncing an HMI Source-4 Joker into the ceiling. Otherwise, there was light from windows about every fifteen feet and some very underexposed areas in between from hanging practicals with 4800K blue photofloods in them (for a semi-warm look in daylight but not orange.)
I am rating Fuji 500 at 400 ASA but Fuji 250D at 160 ASA, just because I want the day exteriors to be a little snappier and less grainy.
We plan on using a light layer of haze/smoke on a number of scenes, but interiors like the hallways or other spaces are too big and drafty to allow it, so I'm trying out the Tiffen Smoque filter on some of them. I'm using the lightest grade (#1). I wanted to test the filter when I shot my camera tests on location, but CSC wasn't able to get ahold of the filter until just before the shooting began, which meant on Day One was I using it a lot without having tested the effects, other than my memory of using it for a few scenes in "The Astronaut Farmer". I used the Smoque filter on this day in the hallways, a cafeteria, and a stairwell.
The large empty cafeteria has huge windows. I wanted a semi-silhouette look so I metered the window light directly falling on someone at the window and then shot the wide shot at that reading. Even at 160 ASA on Fuji 250D, I got an f/8. On one of the close-ups, the Smoque filter overreacted to the bright wall in the b.g. outside, so I was worried, but two days later we watched Day One's footage in a D.I. theater at Postworks and I was happy to see that the Smoque filter was not only pretty subtle, but in that milkier close-up, I could time out the effect completely back to normal.
Here is a digital snapshot of the room that I took a week earlier for a photo storyboard with stand-ins, for the widest shot. In the final version shot on film on Day One, the background detail out the windows was completely visible despite being four or five stops overexposed probably. And you have to imagine it with a faint fogginess from the Smoque, though it was nearly invisible in this shot because I exposed more for a silhouette:
We ended our first day in a stairwell. I wanted to use available light mostly and was worried we'd get there at dusk, or it would be too overcast outside to get a usable exposure, but we had enough light at 400 ASA to shoot afterall because we got there an hour before sunset. I swapped the overhead flos for daylight Kinos, and in the close-ups, wrapped the natural window light a little further with a 4' 4-bank Kino going through a 4'x4' frame of 216. Again, here is a digital snapshot I did a week earlier with stand-ins for the photo storyboards of the widest shot: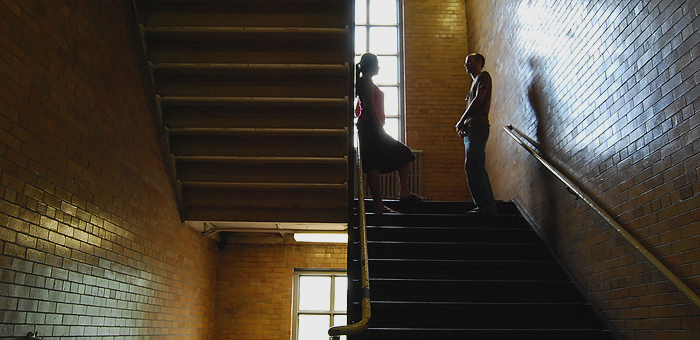 This was shot unfiltered on my Nikon; the Smoque filter provided a nice hazy fogginess around the two windows in the final shot on film and the Fuji Eterna film has a less snappy look than any digital still camera obviously.
We were quite beat-up by the end of Day One moving around (this stairwell was at the other end of the complex, and we also hauled the camera up some metal ladders to a clock tower for an extreme long shot of the rooftop & harbor).
Day Two, luckily, was all in one spot, a huge high-ceiled library. Here's a digital still photo of it during prep. Art Department added some taller bookshelf rows in the middle because we needed some private areas for conversation scene in the stacks. But you get a sense of the available light:
I was worried about using the Smoque filter as a crutch (just because it was easier to deal with the real haze) so I used a hazemaker that the props man had that worked great on the space. But considering that it is hot and muggy in New Jersey these days, I don't know how much longer we can keep shooting in hazed rooms with the air conditioner turned off for most of the day...
I used mostly available light in this room, except now and then I added to it by clipping some 4'x8' white boards to the tops of the high windows and bouncing the HMI Source-4 Joker into them. And again, sometimes I wrapped the window light further around the face in a close-up by using a 4' 4-bank Kino through a frame of diffusion. Instead of fill, I either used nothing (since the light was so soft) or just parked a 4'x4' white beadboard opposite the windows. On close-ups, I'd move the beadboard in but clip a 4'x4' single net frame to the white to make more of a grey card bounce effect. We ended the day with a twilight scene, with the tungsten practicals on and real twilight (blue) outside the windows, augmented only with an off-camera tungsten Kino from one side and a little blue-ish daylight Kino in the f.g.
Day Three was tough, a lot of rooms to shoot in scattered through the school, partially thanks to a rainstorm outside and an actor whose scenes we had to combine into a few consecutive days. We had an abandoned empty swimming pool in a dirty basement to shoot (a somewhat smelly, moldy place) lit by some hanging fluorescent fixtures that were added, with Cool White tubes for a sickly blue-green look. I pushed the Eterna 500T one stop and rated it at 640 ASA, shot at a T/2-2.8 split.
We had some basement weight rooms and wrestling rooms where I originally wanted lit just by the long casement windows at the top of the walls, but thanks to the storm outside, it was way too dark even with three diffused 6K HMI set-up to cover one-third of the row each. I could have pumped up the HMI light, gone harder, but the ambience would have been wrong, too contrasty without fill. I could have papered the windows, put lots of HMI's through them, but then the intensity fall-off from the windows would have been too fast and not natural. So I turned on one row of room fluorescents near the window row so I had practical illumination in the shot coming from the window direction. So the scene was side-lit but from a highish angle. At least it looked real.
We ended the day in a hugh ice skating rink. The director always imagined it being lit by one big backlight, as if they had just left one practical stadium light on in the background, for a silhouette effect for a conversation between someone skating and our main character. I hung a single 6K HMI PAR way up near the rafters pointing right at the ice and the lens for a flared backlit look. The white ice provided a lot of ambient fill in the shadows so I underexposed the faces about two stops metering the shadows, not the backlight. We also scattered some tungsten bare flo tubes along the bleachers behind the fogged glass of the rink for spot of colored light in the b.g. At 400 ASA, I was at a T/2.8-4 split.
Day Four was all in a gymnasium for a night basketball game. I'll pick-up the thread later.