First week out of the school and it began somewhat roughly. We had a day of driving around on the main street of Bayonne but due to lots of problems, some organizational and logistical, some just due to the nature of the scene, it was like pulling teeth to shoot this stuff and it reminded me of how much I hate doing process trailer / camera car scenes. We ended the day grabbing some nice twilight shots though on the streets.
The second day was partially spent inside a tiny garage, mostly lit by the fluorescent worklights on the very low ceiling. We had a magic hour sequence which required me to start shooting a couple of hours before sunset, inside a van, and fake magic hour, which was tough -- I saw partially out the door & window of the van, which opens & closes, so I couldn't ND gel the window. I put ND.90 on a 4'x8' wooden frame and put that just in the background to darken the view, then tented the van. I put a bright tungsten lightbulb in the van that comes on, so that I had a mix of color temps. But it was hard to get the light levels of daylight dim enough. We then shot the wide shots at twilight for real.
Because on this day and the next, we had some nighttime exterior work with a lot of natural light, we rented a set of the Zeiss Master Primes. I shot some of the wide shots at T/1.3 and then the closer shots at T/2 just for a little more depth of field.
I did one of my favorite night exterior shots so far, lit with just four 1K PAR64's (narrow spots, but they had two double scrims in them just to knock everything down to a T/1.3 level.) On a 40' condor on the left, I had one PAR64 with Cyan60 gel pointing down, about two stops overexposed, plus two ungelled PAR's aimed at the far background, plus a fourth PAR raking the building from the right. I also added a mercury-vapor practical on the left side of the building.
It was great lighting a wide shot to T/1.3 because between that and pushing the Fuji Eterna 500T by one stop, I was able to capture the glow in the sky from the sodium vapor night lights. Here is a digital snapshot I took of the set-up: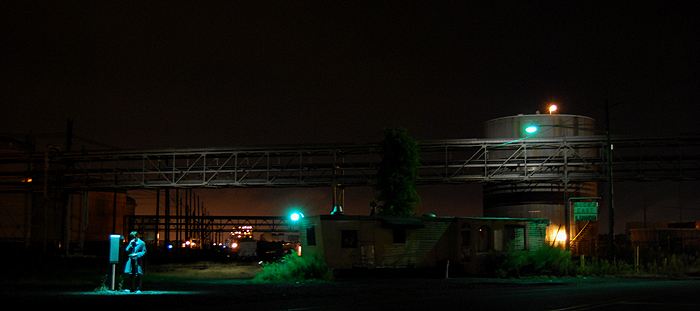 That same night, we shot a scene across from some loading docks at the harbor. It begins with a teenage girl waiting near the shipping docks. We had an overhead 5K gelled with 1/2 CTO on a condor pointing down for an overhead streetlamp effect and I filled in from a distance with another 5K with Cyan60 gel over a Chimera softbox.