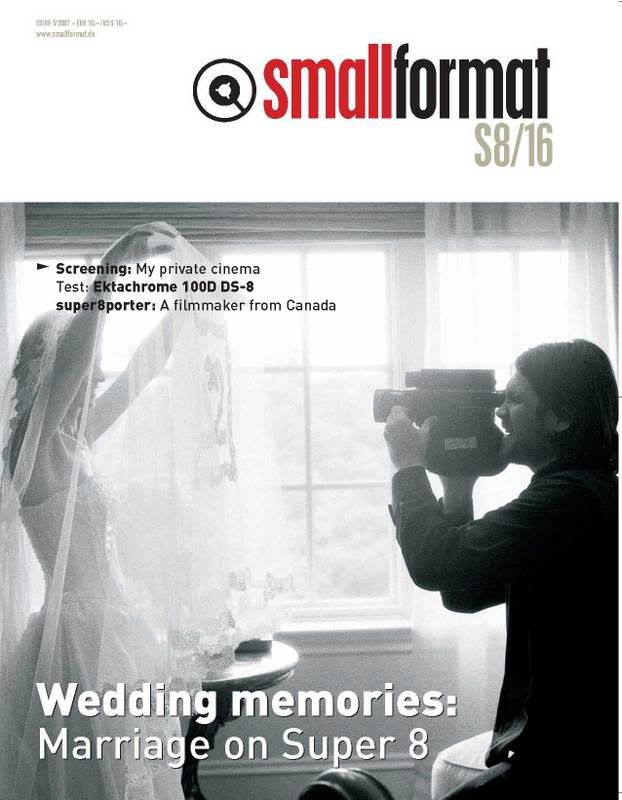 Here are the topics of smallformat 5/2007. The new issue will be shipped in two weeks:
clapper AN EXPENSIVE HOBBY? Jürgen Lossau reveals the cheapest film stocks in Single-8, Super 8 and 16mm
viewer NINE OF NINETY-NINE The International NOMOS Super 8 Award 2007 was presented in Berlin, Australian film festivals and news about film stocks and processing - especially about the new designed Super 8 cartridge of GK-Film
screening TUSCHINSKI?S TREASURE Jürgen Lossau investigates Amsterdam?s renowned film palace and its founder
screening SIXTY FEATURES ON SHOW Dan Lail from Georgia (USA) presents his home cinema
screening EUMIG OUTCLASSES ELMO says Paul Adsett from Orlando, Florida, as he shows us his private cinema
timelapse ONLY ON PAPER Claus Krönke explores the patent offices in search of interesting cine gear that never made it into production
screening OUT OF THE BOX - part 8 - John Clancy and Keith Wilton examine the enigma of Ken Films (USA)
portrait EYE CANDY Jürgen Lossau reveals that wedding couples wish to see themselves on ?real film?
portrait ?I HATE WEDDING VIDEOS? declares wedding filmmaker Damo Cross from Great Britain
portrait ?I WANTED MY OWN WEDDING ON SUPER 8? A talk with Paul Corver, founder of ?Fifty Foot Films,? USA
portrait ?FILM REMINDS YOU OF THE MOMENT? Interview with Kristen* from Bliss* Video Productions, USA
test TRIPPING THE LIGHT FANTASTIC Jürgen Lossau evaluates a new LED ring light for shooting stop frame animation
test CARDIAC PACEMAKER Claus Krönke tries out DS-8 Ektachrome 100D ? a film stock supplied by Wittner Cinetec
tak?s talk SHOOTING 8MM ABROAD Japanese filmmaker Tak Kohyama meets Frenchman Aimé Jardon, who lived and filmed in Japan from 1953 onwards
interview SUPER 8 PORTER Canadian John Porter discusses his artful filmmaking
forum LETTERS TO THE EDITOR from Bosnia-Herzegovina, United Kingdom, the USA and Germany
The world of small format film has become more international in recent years, especially since not everyone lives near others who enjoy this fantastic hobby. A respected technical magazine read by film enthusiasts worldwide is more important than ever. smallformat is that magazine. Explore it for yourself!
We would like to make you an unbeatable offer: Subscribe to smallformat now and receive a free Kodak Ektachrome 64T Super 8 film cartridge.
PM with your address is fine - or have a look at www.smallformat.de