This is the TV movie that Storaro shot around 1982-83. I've seen almost every version of this movie/mini-series, starting with the 10-hour version that played on the Z Channel in the late 1980's, which I had recorded to VHS tape. I also saw the 5-hour version and a 3-hour version. I finally found a PAL DVD of the 5-hour version, though the technical quality of the transfer is mediocre, as have all the TV versions have been.
The movie is so-so as a biopic, though it has a certain dreamlike, hypnotic quality due to a rather obtuse script by Charles Wood, and an overuse of slow zoom-ins by director Tony Palmer. What holds it together is Richard Burton's performance, Storaro's photography, and lots of music by Wagner. So this is the world's longest, slowest, classical music video ever made...
There is one sequence that I've always loved because Storaro's expressiveness is matched to the dialogue and music in perfect harmony. In it, Wagner reads the poem he has written for "Tristan and Isolde" for which he plans on writing the music to. The scene has the love theme from "Tristan and Isolde" playing underneath it, matching the words, and builds into a non-dialogue moment as all the characters look at each other in silence (Wagner at that time having an affair with the wife of his financial backer, while he and his wife are living with them in Switzerland).
It starts out with a medium close shot of Wagner standing in front of his listeners in a drawing room. The first line of the poem he reads is "The Light... The Light..." As he speaks, the camera slowly zooms back to a wide shot, and at the same time, sunlight begins to fade up in the background room behind Wagner's head, as if the late afternoon sun was breaking through a cloud.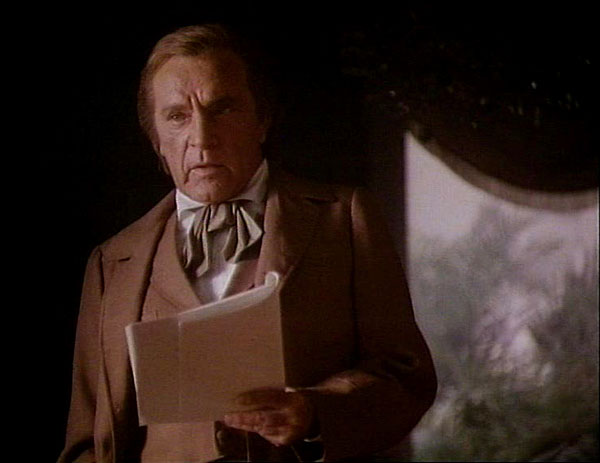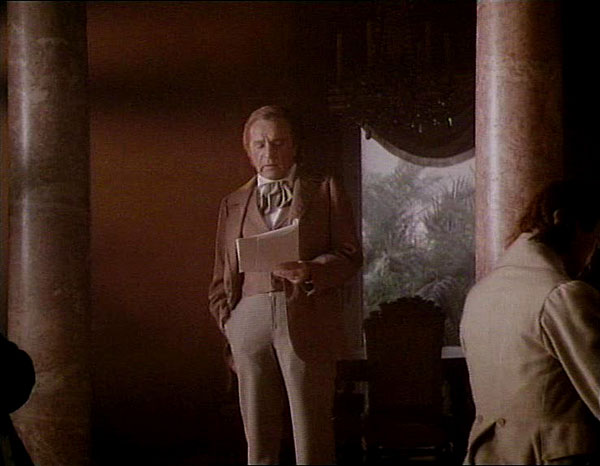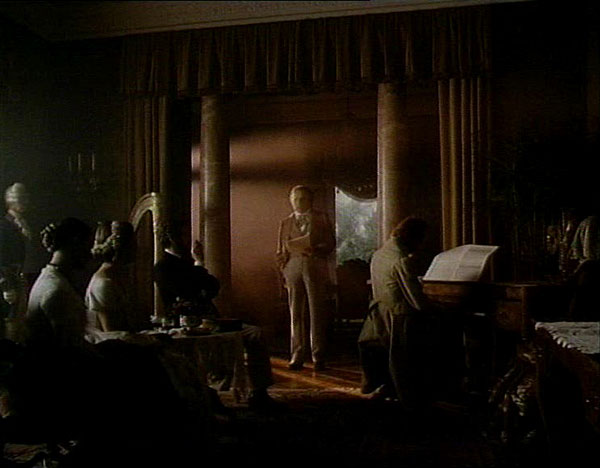 After a cutaway to Wagner's wife's reaction, it cuts to Wagner again, pulling back as he crosses the room and kisses the hand of his mistress (as his wife and her husband watch), and then he sits down next to Cosima Von Bulow (daughter of Franz Liszt, wife of Wagner's conductor/arranger, and future mistress and then wife of Wagner). As he moves through the room, the sunlight starts to fade up on the foreground characters too, matching the swelling of the love theme to "Tristan and Isolde".