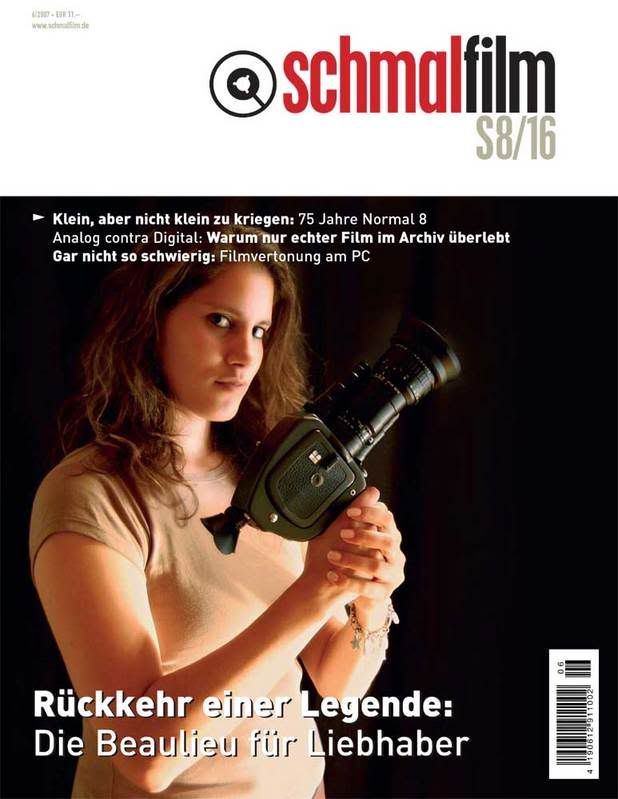 If you have any interest in smallformat magazine and if you think it is important to have a worldwide publication like this, don't hesitate to subscribe. For 2008 my publisher gave me a last chance to improve the financial situation of the magazine. We have round about 3,500 readers so far - more than 2,000 in Europe and 1,500 an USA/Canada. Due to the fact that we only have some few supporting advertisers and the Big Yellow is still missing (even if they benefit most from a publication like smallformat), the publisher still operates in the red. We need about 250 more subscribers and some more advertisers (my translator and proofreader James Grahame and I - we are working on that) to assure the existence of the mag for the next years. I think this must be a solvable problem.
A one-year subscription is Euro 69/US $ 79 for six issues and you will get the picture book "CUT - All about splicers" for free if it is your first subscription. As we know that it always takes some days to ship the copies overseas we have a new idea. If you?d like to read smallformat on your computer on the day of appearance, we offer an additional electronic version in Adobe Acrobat (pdf) format. This is for free - if you are a subscriber.
Our magazine first appeared two years ago and has become the largest international publication for fans of Super 8, Single-8, 16mm, 9.5mm and Regular 8. smallformat publishes 6 issues a year filled with articles about the latest film equipment, moviemaking, film technology, and portraits of people who shoot interesting small format films. Every issue also takes a look at the history of film devices and film formats while offering something of interest to collectors.
This issue features the inspiring story of Canadian John Porter, who has shot and exhibited his unique Super 8 films for decades. We take an up-close look at homebuilt theaters belonging to film collector Paul Adsett (USA) and Dan Filol (USA). There?s a test of the new Ektachrome 100D film stock in DS-8, along with a visit to one of the most amazing cinemas in the world ? The Tuschinski Palace in Amsterdam (The Netherlands). We round out the issue by revealing film equipment that existed only on in research labs and on paper at the Patent Office.
The world of small format film has become more international in recent years, especially since not everyone lives near others who enjoy this fantastic hobby. A respected technical magazine read by film enthusiasts worldwide is more important than ever. smallformat is that magazine. Explore it for yourself!
A private message with your address will do.