Way Up North
An Alaskan Short Film

(all images copyright Crooked Pictures)
(If you want to skip our problems and just read the journal, skip the next three paragraphs)
Well its been one hell of a production so far. This is ?Way Up North? Written and Directed by Levi Taylor, a local guy which is pretty cool. For a local shoot we are really throwing a lot at it, and after two weekends of production the footage coming back is really very good.
First let me say this production should be renamed ?Why Murphy's Law hates us? as it?s been one struggle after another to get the slate up. Its all been worth it, and we all have our battle scars after two weeks, so I will get the bad out of the way first.
First while picking up gear on day 1, my van suddenly dies. What a way to start a 12 day short. It was a few hours of frantic calls and we got a backup lined up, and we made it to that nights shoot. Then after that shoot, we send the location manager on to the next days location (about two hours out of anchorage) due to some bad luck a pull over for a tail light ends in the car being impounded, with the keys to the location and 1/3 of the rental gear. Lots of work went into getting the rented gear out of police impound before incurring a fee. This last weekend we had two days planned, but since the snow fell our movie truck became wildly unsafe to drive, and without another scene ready to be shot, we had to cancel the day.
SO
That?s the bad. here?s the production journal:
We started this production with an idea of being very stylized, colorful, slightly impressionistic. I took cues from films like ?hudsucker proxy?, ?oh brother where art thou? and any film that made a cartoonish style of live action photography. The working theme we were going with was ?modern day western....in the snow? Its a story of a man who has his fortune, business and life stolen from him. We follow our guy as he finds who wronged him and takes his revenge. Its all done to a song that will narrate the film, with the singers voice synced to the lips of actors if they are to say anything on camera. Its a musical, though not like any musical you have ever seen.
We are shooting on a JVC-HD110 in 24p HDV. So far I am very happy with the camera except on two fronts. 1. I wish the camera wasn?t so slow. Nominally I am rating the camera at 200asa, with all the gamma and shutter settings applied. 2. I wish the lens was a bit on the wider end, but we couldn?t afford to rent a wider lens. Other than that the image quality is stellar for a camera that size and price.
We are shooting the whole film through a 1/4 promist filter, which I have been really happy with so far. I have a basic production package available, matte box, follow focus etc. I built a wireless follow focus for the steadycam, though that has yet to be used.
Day 1: Bar
We shot while the bar was open, which caused a lot of problems during the shoot. We managed really well however and pulled off a great shoot. We started early at the main entrance of the bar. I used 2K through a 4x4 gelled with 1/4 CTO up near the ceiling to fill, and two Lowell prolights rigged to the top of the bar as key. That worked out really well, since I had the gaffer spot both of them, giving nice pools of light for the talent to walk through on their triumphant entrance. We also had a 650 fressy with double CTO on the other side of the bar, just to add a little edge light to the charecters in the foreground, though in this screengrab they have turned their head so you don't get the effect.
To accommodate the patrons of the bar, I did my best to group light stands and C-stands in one location, and keep all grip above average head height, we also kept enough extras around the rigging that patrons didn?t come close to tripping on anything. It was still a little nerve racking. At one point during the shoot I had to keep an eye out for bartenders, so I could raise the jib to allow them access. Everyone at the bar was more than accommodating, I can?t say enough.
The plan was to start at the entrance and work our way towards the back as the place got more crowded. That turned out to be very helpful, though at times I had to field questions from very inebriated guests wondering why there was a light shinning in their eyes.
The highlight for me of that shoot was a reverse POV from the lead character who at this point is incredibly drunk. I shot handheld from the floor and shot through a 4x4 acrylic mirror, while having the grip gently bend it. It gave a nice in camera wavy effect, and upon reviewing the dailies I think I got drunk just watching it. I posted a still below that hopefully shows the effect, it needs motion though to sell it. This is from between takes, but you get the idea.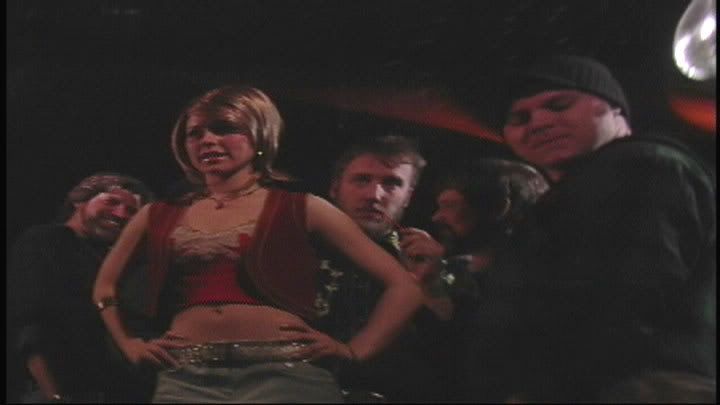 Day 2:
This was a night scene in the dead of winter in Alaska. Enough said. it was -10 that night, we shot from 10pm until 8am, and really worked our tails off getting everything. I lit the scene with a 1.2k HMI through silk as key, no fill (except what bounced off the snow) and a 575 on a high roller as backlight. We used another 575 to pick out a group of trees in the background to add some layers to the image.
In order to keep the snow on the ground pristine, me and my crew had to run cable about 200? around the location, through woods to place the backlight. Mad props to key grip Michael Bergstrom, and our grip Ryan for getting it set up. I felt bad sitting on the porch calling out cues to get the backlight aimed properly, knowing how much effort it took to adjust every time I wanted something slightly adjusted, they really stepped it up.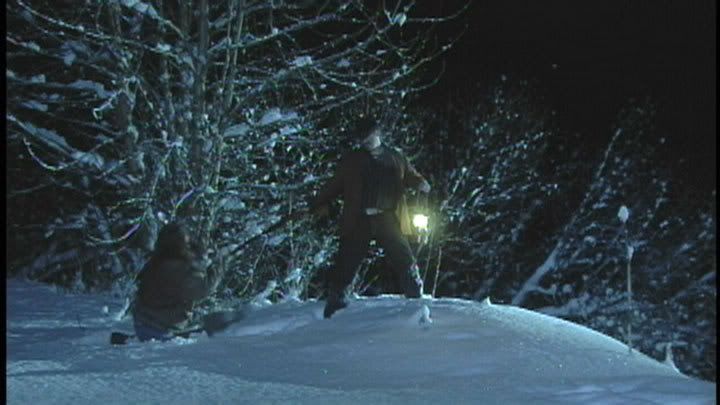 Also we had two dolly positions during the night, which meant digging trenches, which our grip team also did very well. Dug all the way to ground level. Placing and leveling the track also was not cake, so it helped having a dedicated team there. I don?t remember if it was Bergstrom or Ryan, but one came up with the idea of using hot water to de-ice the tracks, it worked well, but it was so cold that within seconds of touching the track, the water would freeze, so it was a lot of work (to do anything that night)
All in all the night shoot looked really good. For the most part I set the lights for the wides, and then cheated the actors to find the right light for CUs and reverses, it worked really well and we moved fast as a result.
I think the biggest props of the evening was the actor playing sh!thead. He had to play half the scene nude, which I can only imagine how difficult that was for him. Not once did he complain, real dedication. We would set up a series of 2-4 shots that could be shot without changing lights or camera position, then bring him out, shoot as fast as we could and let him go warm up. Unfortunately for him, in the early part of the evening we still needed to protect the pristine snow, which meant he had to run behind the hill, around the dolly trench and into the house. As we progressed I was able to give him progressively shorter and shorter runs.
I think the images speak for themselves. I love how they look effortless, knowing all the backbreaking labor that it took to set up each shot, and the mind-numbing logistical problems that have plagued us so far. I think the best I can say is last weekend, we thoroughly kicked Murphy's petute, every possible problem was overcome to get a really great night scene.
(Images were captured off the downconverted DV dub, and the only color correction was to try to adjust to the crushed blacks that method puts into the image. Noise is less apparent in the HD footage, shadows are more detailed, but you will get the idea.)