...a little late, we know. But we will hurry up to finish smallformat 1 and 2/2008 in a few weeks, too.
So here are the topics to enjoy: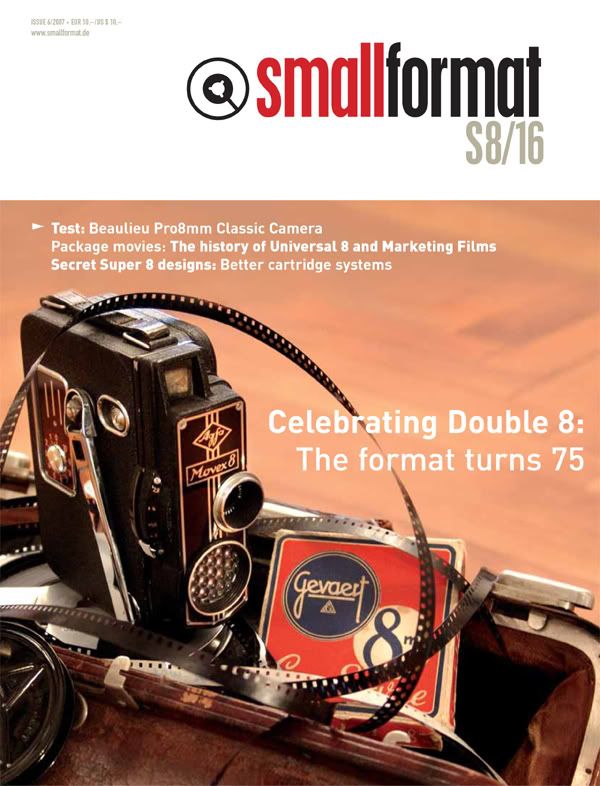 clapper KLOSE ON THE FINAL STRAIGHT Jürgen Lossau discusses the man who created a newly designed Super-8 cartridge
viewer FILM FAIRS 2008 and useful hints concerning film festival entries
viewer AUSTRALIA 2007 & 2008 Past and future film events from down under
test RETURN OF A LEGEND The Beaulieu Pro8mm Classic spent a week on the test bench in our editorial office
portrait 3 MONTHS FOR 3 MINUTES Colin Dewar from Cambridge (UK) about his animated film ?Everything but...?
power pack HAND PROCESSING REVERSAL MOTION PICTURE FILM Ken Paul Rosenthal on drugs that make a film look better
power pack ROLE REVERSAL Jan-Keno Janssen discovers that cinemas are increasingly moving to abandon celluloid
screening A DATE WITH CINEMATIC HISTORY Ronald Vedrilla looks into Manfred Romboy?s private cinema
screening THE MAN IN UNIFORM Jörg Maske celebrates private cinema in a row house
screening OUT OF THE BOX (9) The history of the package movie: Universal 8 and Marketing Films, reported by John Clancy, Keith Wilton and Andreas Eggeling
timelapse CELEBRATING DOUBLE 8 We ask small gauge filmmaker Ronald Vedrilla to pay tribute to the 75-year-old birthday boy
timelapse CLEVER CARTRIDGES Claus Krönke returns to the patent office in search of unreleased film cassette designs
single-8 THE SINGLE-8 REVOLUTION Ignacio Benedeti reveals new film stocks for fans of the Fuji 8mm system
sound GREAT SOUND WITHOUT WIRES Oliver Kochs discusses radio transmitters with an expert
forum LETTERS TO THE EDITOR and a chat from the 8mm cine forum, UK
smallformat 6/2007 will be shipped in two weeks. New: There is also a pdf subscription for only-online-readers (US $ 30).