Way Up North
An Alaskan Short Film

(all images copyright Crooked Pictures, Dir. Levi Taylor)
Much smoother weekend, I think we are starting to settle in with Murphey's law, though the truck I bought to replace the broken down van now seems to have a battery issue...
This weekend was just a one day thing, it seems its really hard to get actors and crew together to shoot on superbowl sunday....who knew. It may have been a good thing, this day turned out to be a 16 hour day with a crew move in the middle of it.
We started near girdwood, on the amazing turnagain road. Beautiful road, but its also one of the most dangerous in america (two lanes, no divider, mountains on one side, icy ocean on the other) and the director still had to drive that 1950s chevy pickup to set for our show car. I don't envy having to drive it, it looks terrifying.
We shot a short sequence between the main guy and an unkown informant. I didn't need to do much lighting, but since the outside was so bright, I decided to shoot normally and correct it to a sunset look later, since doing it in camera would be difficult to view the results, given the terrible LCD monitor on camera(our only referance). The sun was still very low in the sky even by noon when we wrapped that location, so it will work beautifully. I just added some bounce fill to ballance out the shot. We also had the pleasure of setting up a dolly again in sub-zero temps, but again it went smoothly.
Later that evening we set up for what has become the most difficult shot, and ultamatley my favorite. On the storyboard, the camera goes from a Med-CU flys over a gun as a hand smoking a cigar enters and settles onto a wide shot dirtied by an OTS of our villan. In that small environment, I had to make it a compound move, starting with a jib back, and just as the jib feathers, the dolly begins to extend the length of this move. Also complicating things was I didn't have an undersling rig, so I had to fly the jib an inch above the gun, and subtly boom down to catch the right motion of the gun entering frame. You can see our start frame here: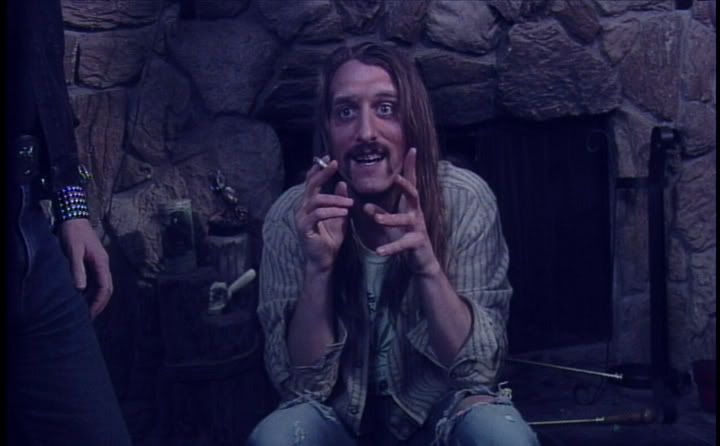 and where we ended up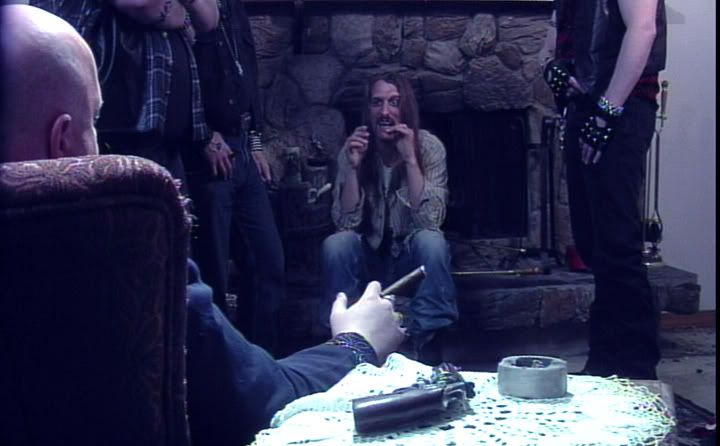 To make things even more complicated, we couldn't rent out the follow focus for the weekend, so I had to pull focus on the lens as I operated jib. Me and my key grip, Michael Bergstrom, tallied it up and figured I was at the same time: DP, Camera op, 1st AC and jib operator. It was one hell of a move and by the time we had it set up, the extras tight schedules allowed only 20 minutes to rehearse and shoot. We got the shot, and somehow I kept focus, frame and motion correct. It was a little nerve racking because I didn't have time for playback, and during the move I had eyes on my marks, frame and the table obstacle at the same time. I never knew for sure if we got it, but the director had eyes on screen and assured me I got it.
This was lit simply, just a 650 through a 4x4 above our villain, just enough to give shine to the top of his head and fill the other charecters, a 250 prolight to add edge to him and the smoke, and a shine on the gun itself, and a 300 through 1/2 CTO and 216. I ballanced to the key light, making the villan and fill go a bit blue. The hard part was lighting in a way that allowed room for the jib to move. By the time it was set, the dolly grip told me I had about 1 inch leway between a stand and the end of the jib (and the window) so I really had to watch out for when I called for dolly.
After that wrapped we moved onto a later scene, where the villians cronnies are passed out in the same room. I kept lighting direction similar, but it was supposed to be night so I switched the fill light to a 250, barn doored to limit how much fill there was (we settled at around -2stops). To pick out random highlights I took an empty frame and made a cookie out of gaffers tape.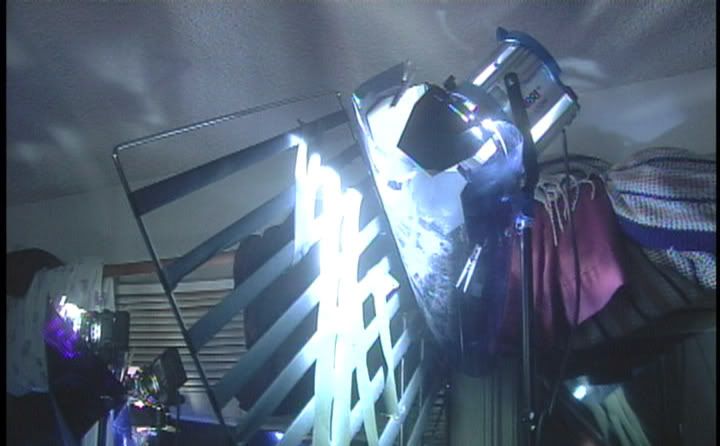 I loved the look of that, esp. when our charecter walks through the room. Also added was a 300 with 3/4 CTB to backlight the charecter in the chair, and to add a soft beam of light with the smoke in the room.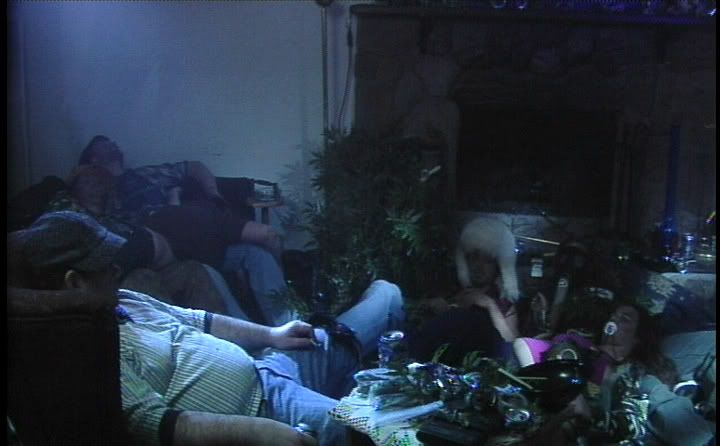 I picked out a picture of the moon with purple spotty light (modivated by the black light that sits next to the picture) and another blue accent light on the gun resting in the corner. We had a grip subtly bring up the level of that light to highlight the gun. The story is somewhat surreal, so its fun to get to do unmodivated lighting gags like that.
The small room size again caused problems, because to get the wide shot we needed, I had to place the camera on jib to place the camera over the stairs to get the shot wide enough. In this frame grab you can see how the broken light pattern fell on our main charecter as he walked through.
Next we moved to a technically difficult shot, and one that unfortunatley left me in a bit of a compromise. The shot called for a greenscreened window so the moon could be laid in. The problem was I wanted to punch moonlight through the window, and we were on the second story.
Big ups to my key grip and his grips for working this out. They ended up running the greenscreen 2 storys high on hirollers and added kinos on either side on mambo's to light it. We litterally had about 3 feet from the window to an immovable trailer (itself two stories tall). When all was said and done, we didn't have stands tall enough to get the propper angle to punch the HMI through the window.
I solved the problem by just cross backlighting him, which given space constraints was difficult, but it got done. Two 250s gelled are on either side, each with their own flag to keep the light off the back wall. Given the moon will be almost the size of both windows, it should seem somewhat realistic that he is cross lit like that. Again I used the frame with gaff tape to make a broken pattern. Fill was provided by a gelled 650 bounced off the ceiling. Also for this shot I found myself again pulling focus while operating, since this shot was supposed to pull from the greenscreen back to a med. shot.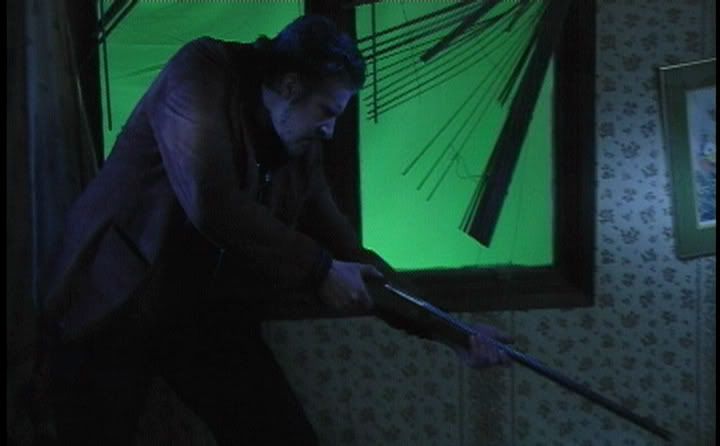 There. What a weekend. I am prepping for 3 days of night scenes starting this friday night. That should be interesting, if not exhausting. I am looking forward to it though, lots of fun stuff in there.
If anyone has any comments I would love to hear some feedback on this shoot. Its been fun so far.

(Images were captured off the downconverted DV dub. Noise is less apparent in the HD footage, shadows are more detailed, but you get the idea.)