Hello All,
I will be beginning a shoot this Saturday on the sound stage at my school. We'll be shooting in a set design to look like an office. I'm finalizing my lighting plan, and I wanted your thoughts on the proposed rough in. Below is a rough drawing of the office without lights.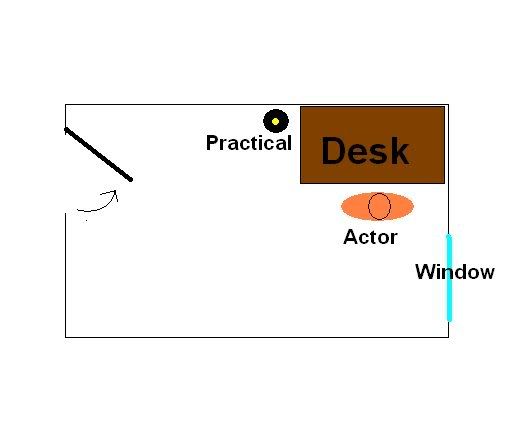 It's pretty spartan: a window and a door. A desk in the corner with odds and ends. Light would come from three logical sources: sunlight from the window, fluorescent light from overhead, and a floor lamp next to the desk. All four walls are designed to be wild, but the primary shooting position will be as illustrated below. Depending on camera angle and type of shot, I will of course add, adjust or remove lights, but basically the rough lighting scheme I propose is shown below: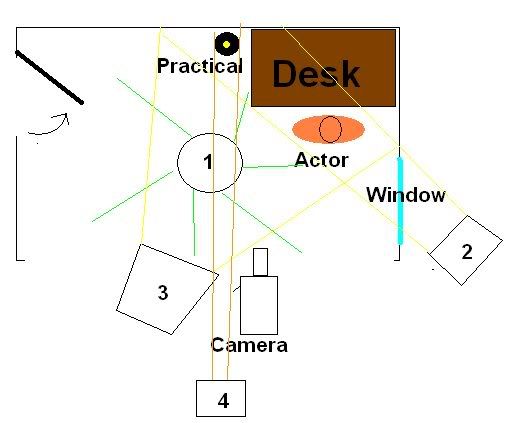 Light #1 would be a 2K fresnel centered over the set, pointed directly down to the floor. It would be set to the broadest throw, and modified with a green florescent correction filter. I'm wanting it to be almost overpowering, and vying with the natural light. Which brings me to #2 and 3. These would serve for the daylight. 2 is a hard light, a 4K positioned at an angle through the window (rigged with blinds) to cast an exaggerated shadow upon the wall and over the subject. This light would be uncorrected tungsten, and I am balancing my XL2 so this is the neutral light. Aiding the hard light would be a softie (2k or 3, I'm not sure which) positioned near the camera to fill in some of the shadow, and cut back the green florescent just a BIT. Finally, light 4 would fill in for the practical. Since I'm correcting for tungsten, my lamp needs a bit more orange to stand out, and since I risk burn through gelling the actual bulb, I was thinking that instead I would hang a baby spot overhead and slightly behind the camera, with a CTO and a mask to simulate the light throw of a floor lamp.
The overall motivation of this scheme is one of conflict. The story is about a man who works for a large corporation bent on seizing some property to develop into condos. He works in a space of harshness, with bright daylight coming in through the window, and harsh florescent light down upon him. The lamp adds a third element, suggestive of inner conflict. I'm wanting to toy with how the light interplays, the white daylight to his back, the green light from above that discolors and distorts, and the more intimate orange light that shows the audience his features, and helps to make illustrate his conflict and his basic goodness (if ineffectual and weak).
I hope that covers everything. Like I said, its just a rough in, and this is one of my first attempts at really previsualizing a light setup, since it's my first studio shoot. If there is anything I haven't addressed, please let me know, and I will be glad to add. I would really appreciate your thoughts!
Best,
Brian R.