I arrived back in town on Saturday from shooting "Jennifer's Body" for nine weeks and began my five days of prep before I begin shooting "Manure" for the Polish Brothers next week.
This is a moderately small union shoot with a very ambitious multi-character script to be shot in only 25 days. And if that wasn't hard enough, with dozens of scenes on the call sheet each day, all but a few shots will be shot on stages, including a lot of day "exterior" scenes. I'm dealing with a lot of sets to be lit with a minimal amount of lights and crew people to do it (but then, Clark Hunter, our production designer, is dealing with building a lot of sets in a minimal amount of space and turning them around day after day). This is in stark comparison to my last movie where I had more or less the correct size crew, equipment package, and schedule to pull it off. So I expect this shoot to be a tough one -- but creatively exciting.
Being a comedic tale about the struggles of old-time manure salesmen competing with new aggressive modern fertilizer salesmen, set in the early 1960's, the Polish Brothers, in a twist on the all-grey color scheme of "Northfork", have imagined this movie as being only in brown tones. And I mean literally, down to skies and plants and food, etc. being painted in shades of brown.
The movie will star Billy Bob Thornton as the lead manure salesman and Tea Leoni as the woman who inherits the ailing manure company from her father. Kyle MacLachlan will play the lead fertilizer salesman.
We are shooting at Melody Ranch in Santa Clarita, just down the street from the stages where "Big Love" is beginning their third season of production, a job I turned down out of loyalty to the Polish Brothers.
The other twist is that the Polish Brothers have gotten independent financing for both this movie and a second one, to begin shooting only two weeks after this one wraps. That one is called "Stay Cool" and is a throwback to a 1980's John Hughes comedy, about a high school reunion. To be shot mostly on location.
So I plan on being very tired for the next three months…
Having enjoyed shooting on the F900 for "Jackpot" back in 2000, the Polish Brothers felt that these two small indie features would be a good opportunity to shoot digitally again. They asked me for a rundown on current digital choices. I sort of narrowed the list down to what I'd like to try out these days, from the new Panasonic HPX3000, to the Sony F23, the Panavision Genesis, and the RED ONE. I listed the pros and cons of each. They decided to go with the RED ONE, based partly on the ability to buy the cameras outright for the production company they are forming with their investor/co-producer, an expense that doesn't have to be part of the movie's budget. I warned them that the workflow was a bit new and under development, and there were stories that they heard about various bugs that I couldn't deny, but they were willing to take a risk with me. This is one of the advantages of working with the Polish Brothers, that they trust me and they are willing to take risks with me, technically and creatively. On other productions, I'd be more likely to push a tried-and-true method just in order to not be blamed if things went wrong. With them, I can propose shooting in anamorphic, doing a skip-bleach process, whatever seems right for the movie or interesting artistically, visually. And being an independent production, there's no studio that has to sign-off on everything we do.
So the big downside to this is basically that I've only had a few hours with the RED ONE in prep to get to know it, on top of the general lack of prep I've had on this movie. Knowing that a lot of important decisions would have to be made in advance while I was shooting up in Vancouver, especially since we are buying a lot of the camera gear, I suggested that the production hire DP Jim Mathers (founder of the Digital Cinema Society) to prep the movie for me, and then serve as 2nd Unit DP once we start shooting. Jim has already shot two RED features and owns a RED camera. Jim, in turn, suggested hiring Conrad Hunziker as a B-camera operator – Conrad has experience with the RED and will help the rest of us get familiar with the camera.
We are renting the rest of the camera gear, including Zeiss Ultra Primes and Angenieux Optimo zooms, from The Camera House. Theo Pingarelli will be A-cam operator and Marcus Lopez will be A-cam 1st AC. We have a 2-camera RED package (with a back-up third body) but, due to budget, there won't be a B-camera 2nd AC, just a Camera PA.
The tight budget has made a lot of things harder than they really should be, starting with lighting the sets. We have a huge day exterior set inside a soundstage, somewhat bigger than the backyard set in "Big Love". As a form of comparison, that set on "Big Love" took three weeks of rigging to hang 150 spacelights, plus put up cyc lights, four Dinos, four 20K's, four 9-lights, and a lot of sky pans. Well, everything I proposed to light this larger set was struck down as too expensive or too time-consuming, manpower-intensive to rig – like hanging 250 spacelights. It was frustrating because it wasn't my decision to make the space so big, I just was trying to light it for a daytime look. My demands were all reasonable, just beyond the budget, which had seriously underestimated the amount of lighting that all these sets would need. For example, we have a second soundstage with another day exterior set that is half the size of the large one. We ended up lighting the main stage with about 20 Kino Blanket Lights, plus lighting balloons along the perimeter to light the cyc. Since the RED prefers daylight-balance over tungsten, I decided, since I was not using spacelights anyway, to use daylight Kino tubes and HMI balloons. For my hard sunlight effects, I have tungsten 12-lights (for a warm sun effect) and 18K HMI's hung near the corners of the set and some more 18K's in the middle of the long stretch of the stage. The stage doesn't really have greenbeds, just a few catwalks and a lot of ceiling beams & rafters, so my lights are hanging a bit lower than I wanted, limited by the rafters, cutting into the cyc painting area, to the dismay of the production designer. The balloons also cut into the top of the cyc a little – but they were cheaper to get a deal on than hanging Lumapanels or more Kinos. But at least those would have been more flush to the ceiling.
I am rating the RED ONE at 320 ASA. Even with Light Grid covering each individual Blanket Light, I am getting nearly an f/4 from all the Kinos above, which is great. I can switch them to low-output mode or switch off individual tubes when I want less from the overhead softlight.
Kino Blanket lites: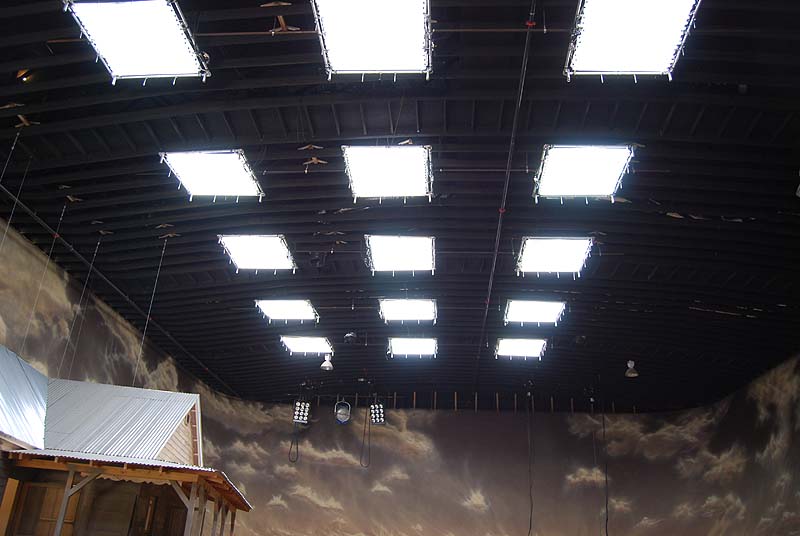 HMI balloon: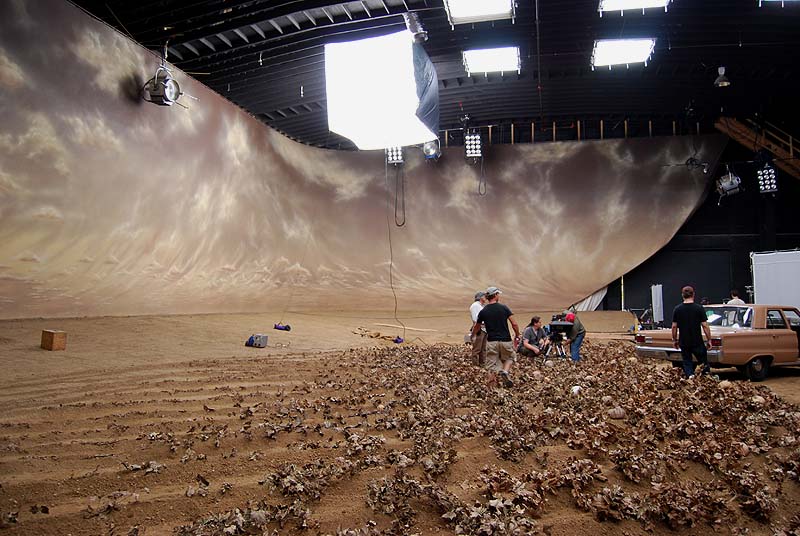 We are shooting with Build 15 loaded in the cameras (Build 16 comes too late for this production but maybe the next one in July will use it). 4K RAW 2:1 mode, framed for cropping to 2.40 : 1. Since everything is painted in shades of brown, and all the clothing is also brown, I don't have to do much in-camera or post manipulation to the colors to get this desaturated brown effect, it happens naturally (i.e. it already looks manipulated.) We are going for a softer look, so I will be using some diffusion. In this case, I am trying out the new Schneider Classic Blacks, a combination of Classic Softs and the #1/8 Black Frost. We may also do some digital diffusion in post. Right now, Plaster City in Hollywood is handling our dailies workflow.
We shot a test on the main stage this Thursday. Because we were still finalizing the equipment deals, I only had the big lights hung above to light the test, plus a few small lights on the floor that Jim Mathers loaned us. I tested both the warm strong backlit effect and just the soft Kino overheads alone for a cloudy-day look. The set is somewhat stylized (and not quite finished being dressed here), so I have some flexibility to stylize the lighting, which is necessary anyway since I have to be creative with less, essentially. I took this Nikon still photo (this is not a RED frame) of Mark Polish in costume under just the overhead soft Kinos (this shows you the normal colors of the set):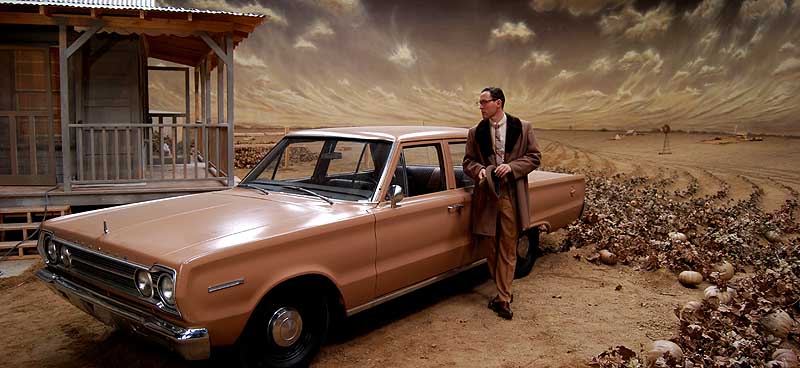 I did a little post softening using my crude Photoshop Elements skills; it's somewhat indicative of the general look we're going for: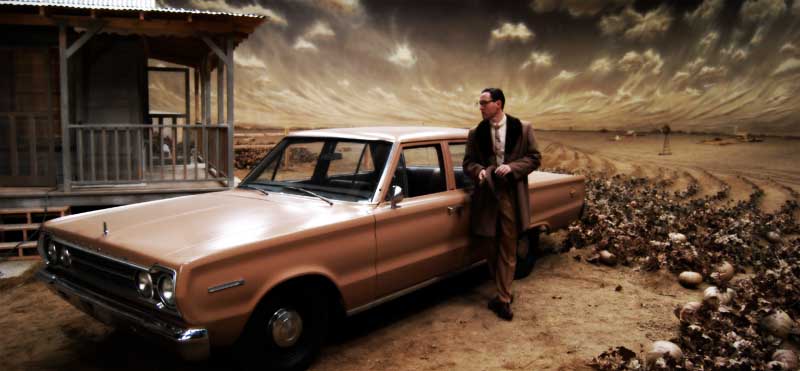 Sorry that the stills are so compressed-looking.
We looked at the RED test footage over at PlasterCity, in 2K projection in a D.I. theater. It looked great, I thought, though the conversion to Rec 709 for viewing caused some red channel noise to appear in the shadows if you weren't careful while color-correcting. The dynamic range was nice; it handled some bright backlighting I was doing. Seems better in that regards than any HD camera I've used so far. The resolution was great, even with the Classic Black diffusion. We also looked at some 3K slow-motion footage that seemed to match the 4K stuff pretty well.
Obviously this is not going to be a normal-looking movie so don't expect it to show-off just how sharp or richly-colored a RED image can be... maybe on the next RED movie that follows this one, I don't have that look locked down yet, but it's a contemporary story in real locations.