Hello all,
I wanted to post a bit on my newest short I have been shooting out in New Orleans area for a talented writer director Joey Mallary.
We have an incredibly talented crew yet are more short handed than any project I have been on to date. 7 people and 2 actors later the film is coming together to really be a nice little piece. The story is about a young man who builds a robot to sooth the loss of his girlfriend only to find it is no replacement for a real human.
We picked up the cluttered and tiny trailer package the other days and it looks like I will be lighitng this whole project with a couple 2k fresnels, about 5 red heads, and a bunch of par cans... other than that we have a box full of practical bulbs and such and a vast selection of Gel, ND, and diffusion. I am a little worried about he lack of light with this camera for all the night exteriors but so far we are surviving even with the loss of stops from the correction over the 2ks.
I am shooting pretty wide open to shallow the depth of field and we are fogging quite a bit to diffuse the shots and create the dusty dirty feel the director wants. Most of the film is shot in long roaming masters which we are blocking as to not have to cut in unless extremely necessary. Wish me Luck!
After a few hard days work here are a few uncorrected stills taken from our daily captures.
Enjoy and please give me feedback!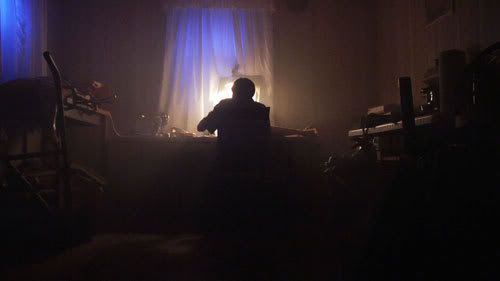 Night in the workshop lit with a 200 watt practical soft white in the work lamp with 216 and 1/2 CTO then Redheads with full blue cross lighting the exterior windows with 216 covering them.
pretty much every light in the truck with CTB
workshop day lit with 2ks through windows hard and a softened fill in the back of room with a bit of green.
stats to come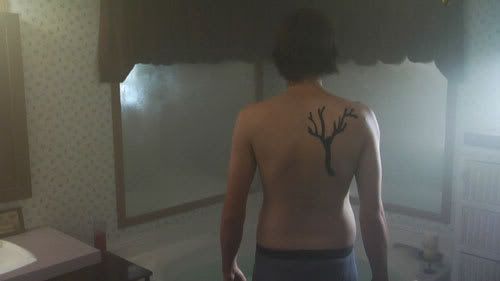 stats to come