Hello all.
I just finished up and am beginning to go into post on a short Entitled "Los Encinos".
It was a quick scramble to get this one rolling and it seemed even quicker to try and get it in the can.
The Director and lead actress Kerrie Cox is a talented woman but it didn't sink in until on set what it meant to shoot for not only a first time director but also someone who is in the film. I Found myself almost directing at times and running between the AD, producer, and my crew was a test of my patience up there with what I have felt on my own projects. However, with all the stress and rough environment including cold, rough roads requiring me to buy a new tire, new headlight bulb, and a serious car wash - and dust which lead me to realize all of the functionality of a bandanna, I really think it was a good time and we ended up with some beautiful shots.
here are a few of the stills. Let me know what you think and feel free to ask questions: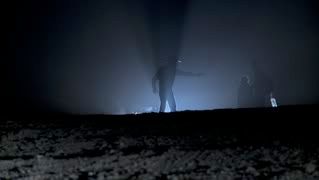 The above is lit with 2 dino 12k fixtures from b&m. These are by far my new best friend. Cheap, functional, easy to move and work with and they are tungsten! we had narrow, med and wide for all heads in the fixture as well as my new best friend the stippled lens. they are both center road and cut a bit as to not spill on the G&E truck directly beside (don't ask). In the foreground we shot a par can ran off of my remaining put put generator that also ran the monitor. last we used the headlights of an concoming truck to accentuate the scene as it comes over the ridge and hits the armed Coyote.
The above here is lit by God's beauty and a 6x6 super bounce as a bit of fill.
This one in the general store consisted of the maxi fired through opal outside of the window, corrected HMI 1.2 par in the store simulating similar spill, a 2k Fresnel through the back room window and the fill is created with a few home-made kino units we through together with duro bulbs and Cat5 connectors to the ballasts on the floor with standard household switches... this is my own contraption so if you want to see an example let me know and Ill upload some pics.. they are quite comical.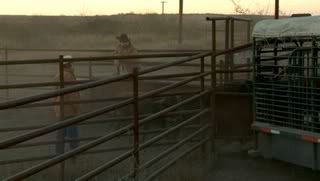 Just the good old man upstairs here.
This is a few dedos cut to hell on a make shift dimmer flicker gag, a 1k rim lighting him from behind and the rest is flag city and patience.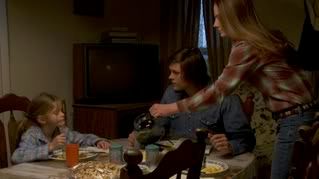 The dinner table is a few practical 212s in the overhead fixture draped of to what looks like a space light, 2 1.2 HMIs outside the windows all with opal, and then the room is also lit with a few covered wagon 9 bulb fictures on dimmers and 212s in those as well.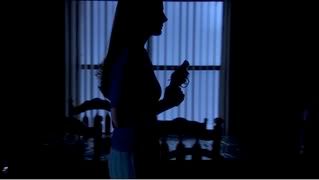 This one is the 1.2s outside as well as a few kinos floating through the house all diffused and cut up.
this one is all shiny boards and sun (note that this is from a take we cut from the film (do you see me in his shades?)
More to come as well as a few production stills.
I wanted to also give kudos to my Gaffer JJ (janet jensen from Austin) and Spencer as well as Nick Barker on Grip and Jacob Esquivel backing him. All good folks and a solid team on this rough low budget. We got a truck package discounted from Texas film and Light here in Austin TX and our quiet gen compliments of film fleet. (never forget those favors)
Best,
Matthew