Back the fall I DPed a short film shot up near Seattle on Whidbey Island. If anyone here remembers Snow Falling on Cedars, we used the exact same deadwood beach featured throughout that film. I watched those beach scenes about a million times. It's not everyday that you're going to shoot a location, wonder "what would Robert Richardson do here", and then actually be able to get (and watch) an answer.
The story takes place in a pseudo-40s/50s alternate reality in which nuclear doomsday has arrived. It's a pre-apocalypse story, taking place mainly on a beach between two characters stationed at Victory Point, a remote listening outpost, during the hour that the bombs drop on distant cities. It's a quiet movie about 2 guys sitting at the edge of the world watching the sky fall.
Shooting in the Pacific Northwest is interesting. Of course most people who come up here to Vancouver don't utilize what's here - muted grey, wet everything. A melancholy dampness and gloom everywhere. We were determined to use the strengths of the Northwest to the fullest. Naturally, that ended up meaning fighting the sun nearly every day on that beach. Unbelievable.
The story is basically a one act play. We intricately planned out how to cover this long dialogue scene without repeating shots, and without shooting standard coverage. Keeping the blocking dynamic, keeping the shots changing. Quite the challenge, but I'm pretty happy with how we pulled it off. The thing's still in editing, but I saw a very promising rough cut recently.
Some screenshots follow - I apologize for the compression, it's the only copy of the film I have available at the moment -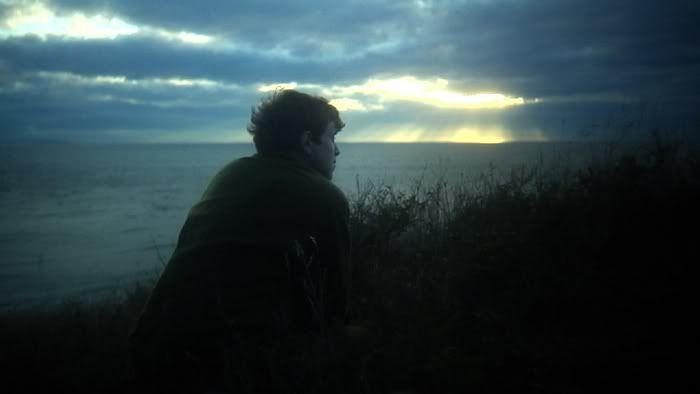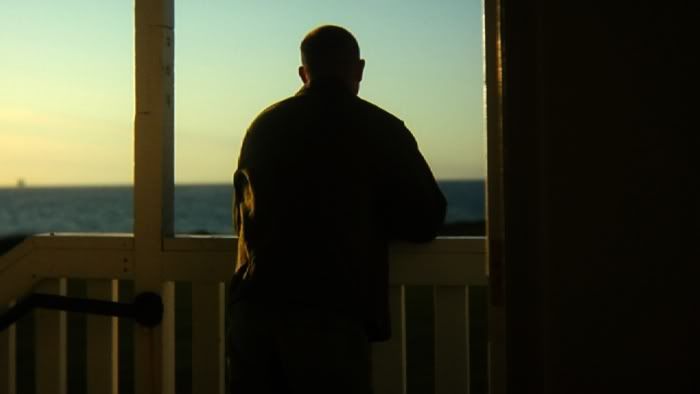 As you can see, Whidbey Island is a gorgeous kind of gloomy.
We shot on the HVX200, at 720p, with a redrock micro adapter and a kit of Nikon primes. As you can imagine, it was an incredibly low-budget situation. We had a chameleon dolly, a woefully tiny crew, and one 2-ton of gear. A handful of kinos, one 1.2K hmi, and no fresnels bigger than a 2K.
I should say right now that shooting at 720p with an M2 adapter gives an INCREDIBLY soft image. I might suggest shooting at 1080 if anyone will be using the adapter, because it adds a LOT of softness to the image.
That said, the softness works really well with the tone in this case - the Pacific Northwest is a ghostly place - fog banks and muted light, and endless blankets of grey.
We had one interior location, a bunker. We ND gelled our windows, bounced light into the ceiling, and used a few 1Ks for rim lights and dressing. We always kept our keys soft and let the ambience do all the filling in. We had a couple of big dollies through the bunker, and used kino banks to fill everything in, with a couple of 650s and 1Ks through light diffusion to break things up a bit.
We kept things from ever getting too warm - at the end of the film, when everything is empty and abandoned, there's a kind of magic hour light, but it's meant to be eerie - The sunrays and the shot of the empty, dark bunker here are from that sequence.
On the beach it was all grip - Diffusion frames when it got sunny, bounce boards all over. It was mainly a battle with getting our camera setups just right, because some of them were right in amongst the giant piles of deadwood. A crane with a remote head would have been lovely in that location - alas. Snow Falling on Cedars is the tank to our wind-up toy.
(note: I had to delete a few images as I was past my limit)
Edited by Thom Stitt, 09 February 2009 - 12:11 AM.