Lately I've been watching the Original Series of Star Trek, Season One, on Blu-Ray, as well as the first six features.
I've always been somewhat obsessed with "Star Trek: The Motion Picture" (dubbed by some as "The Motionless Picture") -- it came out when I was a senior in high school and I must have seen it a dozen times just in that year.
I've always been a big fan of Richard Kline's photography, especially in "The Andromeda Strain", "King Kong", and "Star Trek" -- and I've been lucky to be able to talk with him over the years now that I'm in the ASC. Also, one of my camera operators on "Big Love" used to work with him in the 1970's and has a lot of stories to tell (though he did not work on "Star Trek").
The use of 100 ASA film stock, the anamorphic lenses, that clean look that some people have complained as being too sterile, well, I've always loved it. And the mix of hard and soft light throughout the movie.
I've also been obsessed over the use of split-diopter filters in that movie -- half the shots use them. I don't know how to pull Blu-Ray frames on my Mac, so I tried taking a Nikon snapshot of the screen -- I had a lot of moire problems though, forcing me to frame the TV screen small in frame until the moire disappeared. Anyway, I pulled some examples:
This was a DVD frame grab (not original size):
Here are some Nikon snapshots of the TV playing the Blu-Ray. As you can see, the contrast and color is off: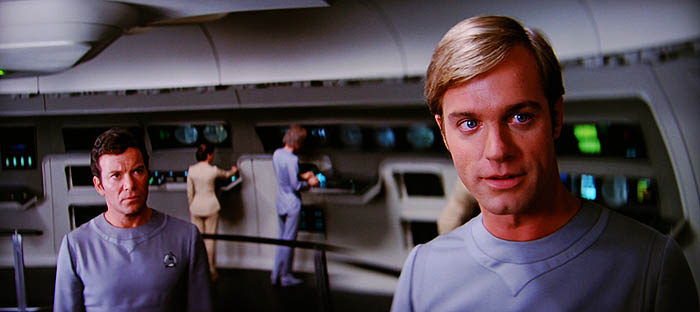 Anyway, it's an example of the use of split-diopter filters in the movie.
But on Blu-Ray, you can see a lot more variations in lens sharpness, filter placement, etc. I was noticing early in the launch of the Enterprise scene this unusual use of a split-diopter filter cut and placed only in the middle of the image and clear on each side, to hold Sulu in focus: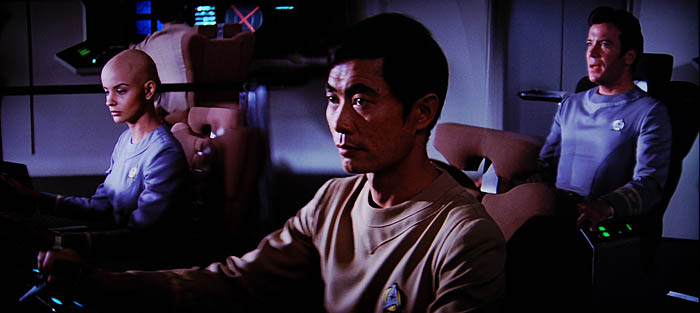 But a few cuts later, there is no split-diopter and the light level was increased instead in order to stop down and increase depth of field, making the lens sharper (I suspect the light levels of the bridge in general were raised for a few shots because of the use of a bluescreen for the main viewing screen, so maybe they decided to reshoot this angle on Sulu with more light as well. Of course, this is a wider-angle lens as well, and since Sulu's hand is in frame, maybe they decided they couldn't use the split-diopter trick here because it would cut through his hand: