Hi, this question is half DSLR related and half editing related but it is related so hopefully someone will be experienced enough to help me with both aspects. I have already posted this in another forum category but didn't get much of a response (I'm new to the forum so not really used to navigating where to post topics).
Basically I'm looking to buy a Canon 550D for shooting video. My only problem is that I'm editing in Final Cut Express, and I'm not sure how compatible it is with DSLR footage.
Firstly, I want to record in HD, but I've done some reading up and some websites have been saying that the moment you hit the record button, the resolution goes from 1080p to 480p, and that it's only true HD if you hook the cam up to a tv and use a full HDTV essentially as an external monitor via HDMI out. I was wondering if this is the case? I would have thought that if the camera is advertised as full HD it has to record in full HD - could someone shed some light on this for me?
Secondly, I edit using Final Cut Express, but I am new to the software, and I'm not sure whether the sequence presets correspond with the shooting modes on the 550D. Below is a screenshot of the presets available: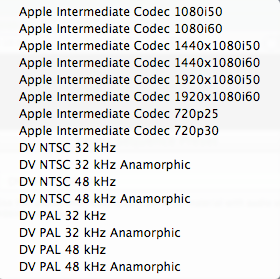 As it is American software there are no 24FPS options for 1080p footage (I know this because I have tried selecting all of the presets - and they are all 29.97FPS). I also know that the aspect ratio for Canon 550D footage is 1920 x 1080, so that leaves two Apple Intermediate Codecs (1920x1080i50 and 1920x1080i60). So my first question is what do the '50' and '60' actually mean? Because they are both still 29.97FPS so it must be something else which I can't quite work out.
And also, they seem to be interlaced sequence presets rather than progressive, and as far as i'm aware the 550D shoots progressive. Am I right on this and will this have much of an effect when editing?
One more question on this subject, I think that the 550D can record in 30FPS (although I'd appreciate confirmation on this), is that the same as 29.97FPS? And also, is there a noticeable difference between 24FPS and 30/29.97FPS? I've been told that 24FPS is better (which I don't have a preset in FCX to edit) so I will probably have to shoot in 30FPS - is it 'worse' or is there not a lot in it? I know that broadcast frame rate is 24FPS so just wondering if this is worth considering..
I have tried editing some 550D footage on my brother's 550D, and as soon as I put it on the sequence timeline it needs rendering. Does this mean that my sequence settings are wrong, and would the right sequence present mean that the footage does not need instantly rendering? And will this rendering mean that I lose quality?
Finally, does anyone know what field dominance is? The 550D footage says 'none' however the sequence preset settings say 'upper (odd)'.
Massive thanks to anyone who takes the time to address these questions, I know its a lot at once but hopefully there are people out there who understand all this stuff and can help me out. I don't really want to buy the camera if it turns out I can't edit the footage in FCX, because I certainly can't afford to upgrade to PRO.
Cheers,
Jonny