I very briefly covered some of the production in this thread:
http://www.cinematog...showtopic=40982
But these days, it's hard to talk much about a show in production unless it is an independent feature and thus not yet under the control of a studio...
In December, Season Two came out on DVD -- for some reason, only the Showtime shows produced by Lionsgate (Weeds, Nurse Jackie) come out on Blu-Ray as well. That bites, I'd love to have my work come out on Blu-Ray.
Season Two was interesting for two reasons, one is that I had to shoot that season on the Genesis with the camera switched from PanaLog to Rec.709, mainly as a cost-saver, they wanted to make straight dubs from the camera tapes to dailies and editorial. Showtime's argument was that "Weeds" was shot that way, using a paintbox on the F35 to color-correct on set in Rec.709, and it had won an Emmy for its cinematography. Showtime was really in the forefront in regards to digital, requiring HD origination for their shows years before anyone else, but because of that, my theory is that they were used to the Rec.709 HD cameras in the beginning, like the F900 and the Varicam, and now we have all of these new Log and RAW cameras requiring some sort of conversion to Rec.709 for dailies, a new budgetary
addition
rather than subtraction, so now the costs of shooting digitally were creeping up again. Of course, the quality is now much higher as well with these new cameras, but they come with certain new costs that didn't exist several years back when a digital show was shot, let's say, on the F900 in Rec.709 to HDCAM tape.
Personally, I don't like baking in color-correction on set in the uncontrolled environment of a busy shoot, and also, even with knee compression and whatnot, you can't get the same dynamic range as when you shoot in Log. If the whole point of shooting digital for TV was that it was much closer to a film look these days, then shooting Log makes a lot more sense because it behaves and looks more like a film image than Rec.709 capture does.
Since the Genesis doesn't have Hypergamma as an option, I found a workable compromise where I created a flatter gamma within Rec.709 in the Genesis camera's menu, though at the end of the season, when faced with a daytime exterior that was
so
windy that I couldn't fly silks or barely even use lights, I shot the scene in PanaLog... and no one particularly said anything to me about the dailies looking much flatter. I probably could have done that more often in retrospect.
For Season Three, I was allowed to go back to shooting in PanaLog, our post supervisor worked out a deal with the post house to apply a simple LUT for dailies that didn't add too much to the costs. Since Showtime is also shooting "Shameless" on the Red and dealing with all those RAW transcoding issues, I guess they have come to accept that these new cameras have new workflows that require a conversion step to Rec.709 at some point.
Which brings us to the second interesting aspect of Season Two, a subplot involving the next-door neighbor's house. In Episode One, we find out that he killed himself in this house and that it was now deserted and up for sale. There is a mystery as to why he killed himself and Tara finds herself drawn to this "dead" house, and while there, experiences a whole slew of buried memories. Tara's husband Max decides to buy the house and renovate it, and then sell it. So over the course of the season, the house goes from this old musty, yellow-ish "trapped in the 1970's" vibe to becoming clean and new (and unfortunately for me, less moody and mysterious, especially when the house is stripped bare with no curtains on the windows.) So the first couple of episodes were great for me, photographically, because of this dark old house and the flashbacks that happen inside. There was also a later episode that was interesting for me because most of it took place in a basement during a tornado.
I pulled some of the chroma down in the camera for these house scenes, lit it very warm, so when desaturated it would take on a sepia feeling. I was allowed to use smoke for most of the scenes in the house, something we don't do much of in general, especially on a TV schedule (not to mention, no one wants to breathe smoke every day for four months...) I also used an old-fashoned Fog Filter for these scenes, though very light (#1/4). Here as some frames from the DVD when Tara first explores the house... we cut back later in the episode at dusk to find her still sitting inside the back office in the house, not knowing what she is thinking.
The scene had a great David Lynch vibe, no dialogue, and most of these shots had a slow creep-in on the dolly: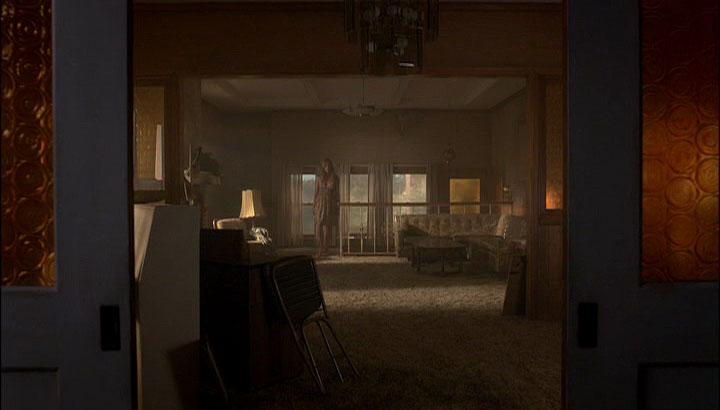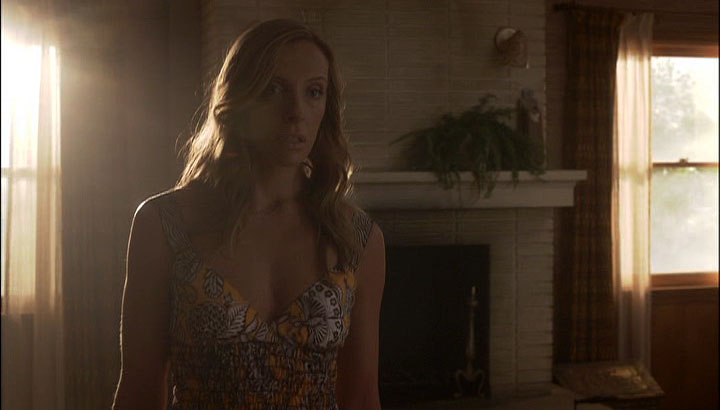 Hours later...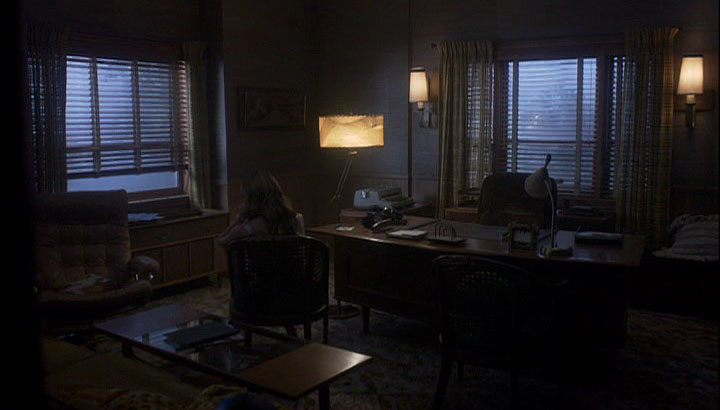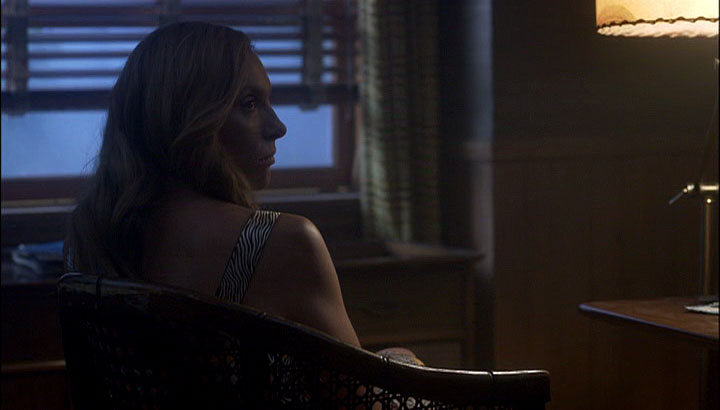 The script suggested that we weren't sure if she had transitioned into one of her alters, that her emotional state was unreadable... I recall suggesting that when we find her still sitting in the house, in the dim light of dusk, that she have her back to camera, I felt that was more evocative.
The interiors were all shot on a soundstage.
One aspect that I like about the show is that it is mostly shot single-camera with prime lenses (Primos), mostly in the 27mm to 50mm range, so it has a very controlled-look, compositionally, compared to most TV shows shot on multiple cameras with zooms.