Hi all guys,
I've had a very good deal for a Gossen Multisix meter, I have also downloaded the manual and I have a question as the explanation is not so clear to me.
Under the cine section on the manual is reported what you see in the pic.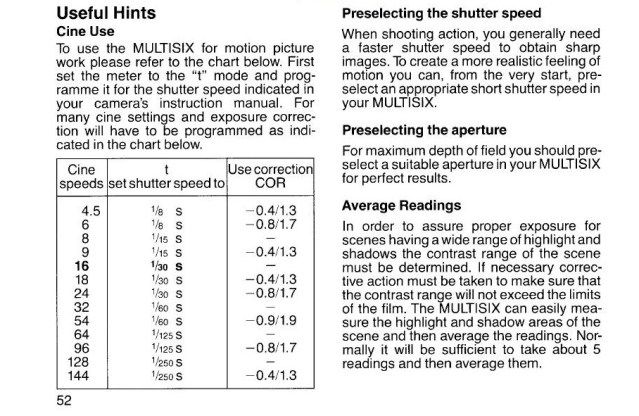 As all the Gossen meters with cine function the FPS are programmated for a shutter angle of 180° you need to insert correction values to obtain the deidered speed of a selected shutter angle different from the standard 180°.
So really I can't understand nothing on the chart reported....
Does anyone have experience with a Gossen meter and the cine settings?
Shooting with a Beaulieu 4008 is not a problem as the meter has the 1/90 shutter speed option (really close to Beaulieu 1/87 24fps shutter speed) but how can I do to have the exact reading for Bolex EBM for example (1/67 photometric speed) without doing the f/stop 2/3 compensation?
Thanks for your help.
Giorgio