Hey guys,
You've probably seen me post something similar to this in the past. I'm trying to lock down on a particular look inspired by the film The Crow: City of Angels (the closes example I can provide), a less harsh and more romantic version of its sodium lights-based palette compatible with Ultra16mm Kodak Vision 3 250D and 500T. I need some more advice, please... And I greatly appreciate your time and contributions. Thank you all so much!
1) Regarding achieving the sodium vapor color via gels on tungsten sources, I've read the following recommendations/formulas:
== 2 layers LEE 162 Bastard Amber + 1 layer ¼ CTO **One layer of Bastard Amber instead produces a warmer look.**
== LEE 232 Super White Flame Green
== LEE Apricot 147 + Rosco Cal color Yellow 15
     (Paul Cameron)
== Rosco 15 + 1/4 CTO
     (Wally Pfister in Batman Begins)
== 1/2 or 1/4 CTO + 013 Straw with some magenta correction for a little more pink for a strict match
     (Roger Deakins in No Country for Old Men)
== ½ CTS + ½ CTO + ½ CTB + ½ Plus Green
     (JD Hartman on these forums)
What gels would achieve the more intensely colored shots?
And the warmer shots with less yellow on the actor's faces?
2) What color backlight/rimlight/kicker is utilized here (and in above examples)?
Sometimes it appears white, other times I've seen green ala mercury vapor lights used. I'm wondering what would look best, what would balance out the yellow.
3) Previously, David Mullen identified the types of lights used as amber-lit KINOs with gels on them, ala the Wall-O-Lite, and big soft sidelights and big top lights.  If I were unable to get a hold of such lights, would regular fresnel lamps work? With regular softboxes? Or would fresnels through or bounced into diffusion suffice?
4) And what kind of lighting power/lights would be needed to light up fog like this?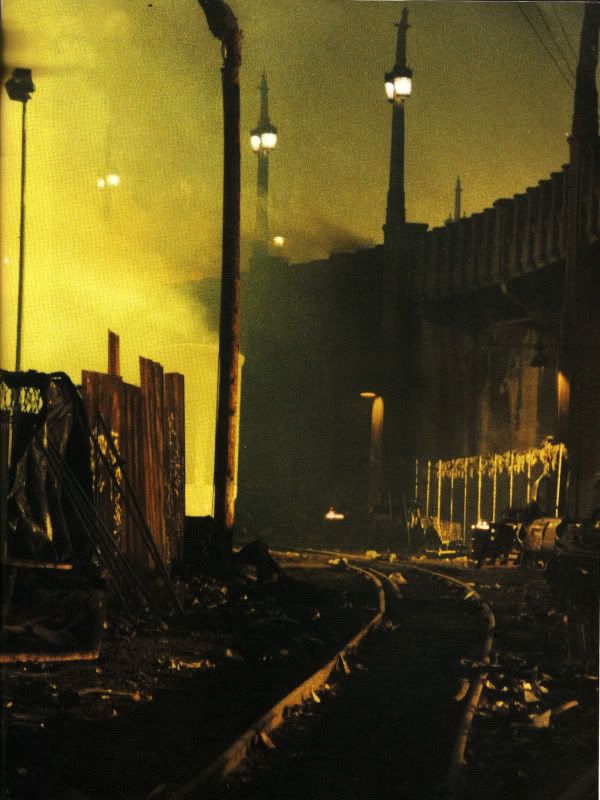 Edited by Francisco Martins, 03 April 2013 - 07:54 PM.