I looked at a range of old 1950's movies on blu-ray in HD to get a sense of 35mm color grain levels back then -- the truth is that they vary quite a bit, partially due to whatever the quality was of the source but also whether the movie was shot in 3-strip Technicolor or Kodak Eastmancolor negative and whether the Eastmancolor was regular 4-perf 35mm or 8-perf VistaVision.  As you can imagine, the regular 4-perf 35mm color negative stuff from the 1950's was the grainiest.  The VistaVision movies Hitchcock made like "Vertigo" and "North By Northwest" though are pretty fine-grained compared to "Marnie" or "The Birds".  
I also saw a blu-ray of "Bell, Book, and Candle" (shot by James Wong Howe) which was quite grainy but not atypical for regular 4-perf 35mm of the late 1950's.
Here are some frames from the two movies on blu-ray, cropped to 900 pixels rather than reduced from 1920 pixels, just so the grain is easier to see:
"Bell, Book, and Candle" (4-perf 35mm) CROPPED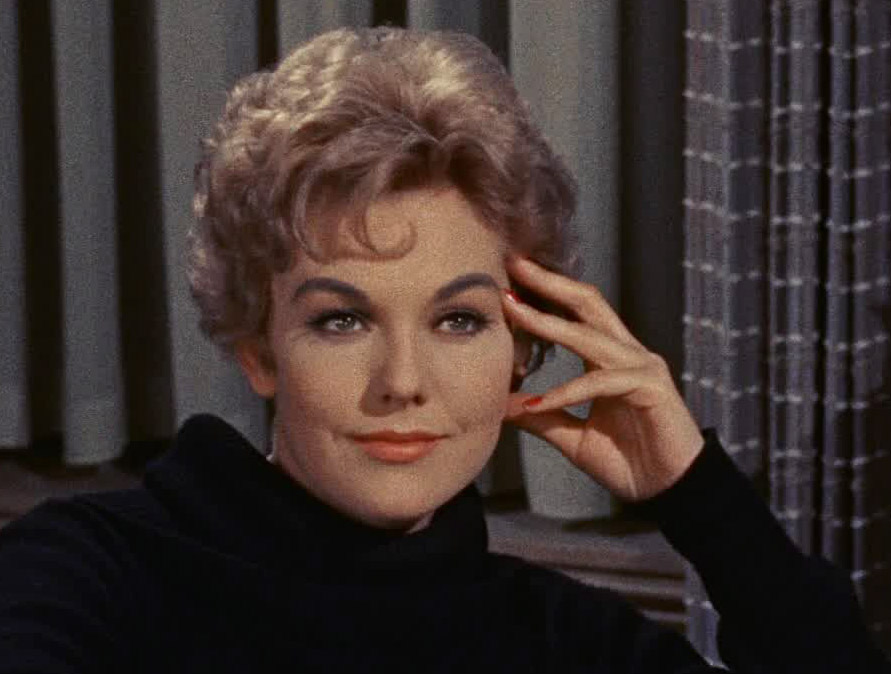 "Vertigo" (8-perf 35mm) CROPPED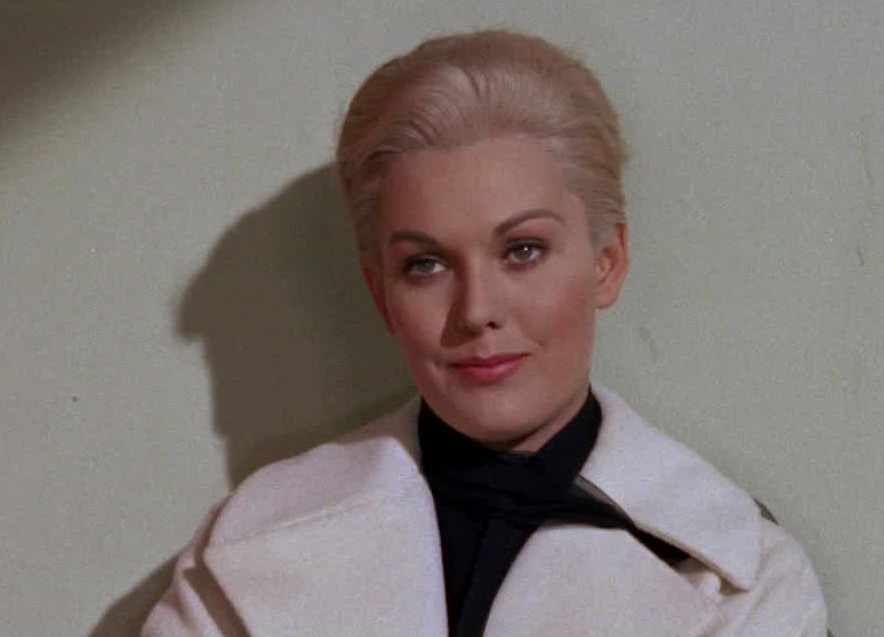 Now I know this is an unscientific comparison because I have no idea of the source materials used ("Bell, Book, and Candle" looks like it was reconstructed from b&w separations, whereas most of "Vertigo" was restored from original negative when possible) but I looked at these movies in HD just to get a sense of what "old" color movies look like, quality-wise.
At the same time, I saw a 4K restoration of the 3-strip Technicolor movie "Tales of Hoffman" digitally projected at CineFamily (Silent Movie Theater on Fairfax) and it was incredibly sharp and fine-grained.
So at first I thought that perhaps 500T stock would get me closer to the graininess of 1950's 35mm Kodak stock, but for the director, it was more important to get closer to the color saturation of these older movies, she wasn't interested in a grainy image.  
She also believes that by using slow film and adding a lot of artificial light, you cause colors to stand out more.  Now while in theory all of the Kodak Vision 3 stocks from 50D to 500T match in contrast and saturation (for better or worse), and thus if I had used just as much light for Vision 3 500T stock and just stopped down the lens more, I should have gotten the same color saturation as 200T but what's nice about using the slower stocks is that you can't really cheat, you have to use the high light levels.  And by using a lot of light, particularly from the front, you sort of obliterate a lot of natural ambience that sort of robs the contrast, and what you get back has more punch to it.  So the slow film sort of forces your hand in terms of being more direct with the light.
Because she didn't want grain, my other thought to rate 200T normally at 200 ASA and push one stop for more contrast and 1-stop extra density, then print down, was dropped too -- if 100T stock had existed, this might have been a good idea though.  Of course, we would have spent more money push-processing the whole movie.  But I have found in the past that pushing Vision 3 stocks does make them a bit more saturated.  So the best solution was to overexpose 200T for more density in the negative.
If Fuji still existed with their "Vivid" 250D and 500T stocks, that might have been worth investigating but unfortunately I probably would have needed a 250T Vivid stock, which they never made.
The best stocks probably would have been Kodak EXR 100T 5248 or EXR 200T 5293 -- the EXR stocks in general had a nice snap to them.