I just watched the new Criterion blu-ray of Kurosawa's "Ikiru" (1952), the movie he made before "Seven Samurai" (1954).  It's one of my favorite movies though less fun to watch than "Seven Samurai".  It was made before Kurosawa started using multiple cameras to shoot dialogue scenes as he did in the movie he made right after "Seven Samurai", "I Live in Fear" (1955).
For the most part, Kurosawa at this time had an interesting technique which was to not intercut coverage, almost every cut in this movie and "Seven Samurai" in a dialogue scene is to a new angle, so the movies keep visually driving forward, rarely coming back to a set-up (within limits -- and I think multiple cameras may have been used for some shooting of the long wake scene at the end of the movie. Or maybe not.)
And not using multiple cameras, he also wasn't using as long a focal length lens as he later did -- most of the shots in this movie seem to be in that 35mm to 75mm range.
Having just read the big Kurosawa/Mifune biography, I know that Kurosawa liked sharp images with deeper focus, and the softer focus of his early 40's movies was partly just a budget issue, there were limitations on lights and power during the war and right afterwards.  So what you see in the 1950's and 60's is an ever increasing depth of field as his budgets allowed more and more lighting.  In this movie, there is a lot of deep staging with the lens at moderate stops, I'm guessing around an f/4 to f/5.6 when possible, but other shots were done wider, like f/2.8 probably.
There is a memorable scene early on, when the main character Watanabe is in a waiting room at the hospital and another patient tells him that the doctors will lie to a patient if they have terminal cancer, and then describes the symptoms of stomach cancer, which Watanabe recognizes as his own symptoms. So when he finally gets to see the doctor, he knows the doctor is lying to him when he tells him there is nothing wrong, just an ulcer, even though he really only has six months to live.
The scene in the waiting room is mostly one shot, after a brief shot at a mirror as Watanabe drinks a glass of water and sees another patient also drinking water.  Then it cuts to Watanabe walking away from the mirror to sit down and the whole scene plays out in one shot, with the dynamics of the frame changing by having the characters shifting positions on the couches:
Watanabe and another patient cross from the drinking fountain to sit down, with a man reading a newspaper in the foreground: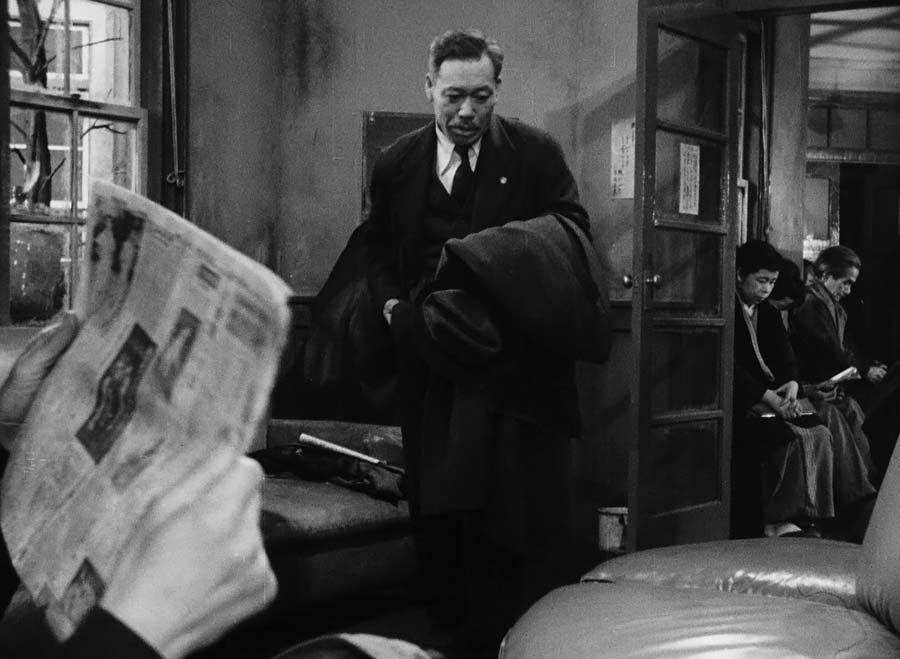 The man with the newspaper moves across from Watanabe to introduce himself -- the other patient who was drinking water with Watanabe in the background, then he leaves the room when his name is called: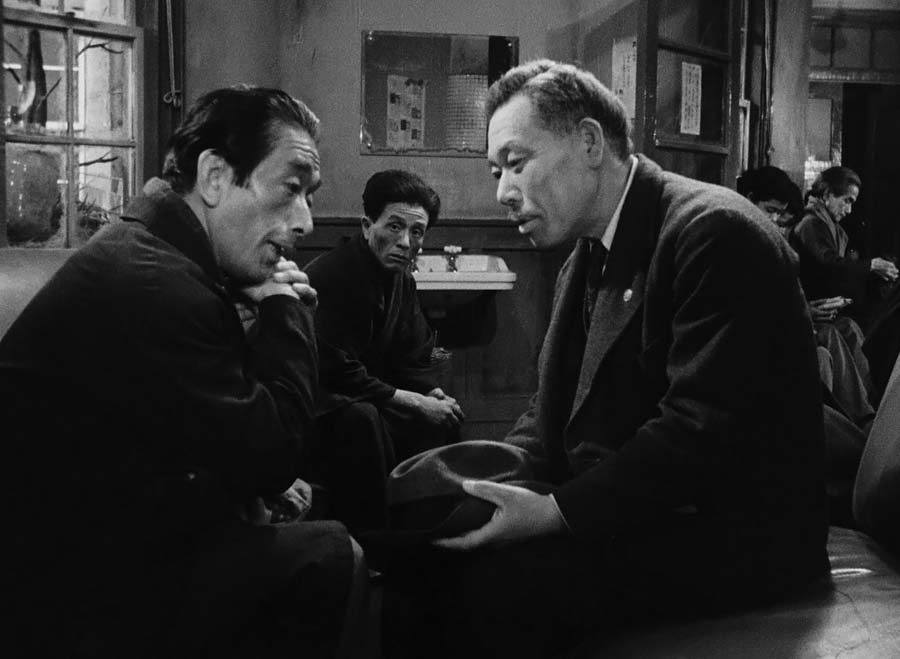 At this point, the man with the newspaper moves next to Watanabe to tell him that the patient who just left has stomach cancer, and excessive thirst is one of the symptoms: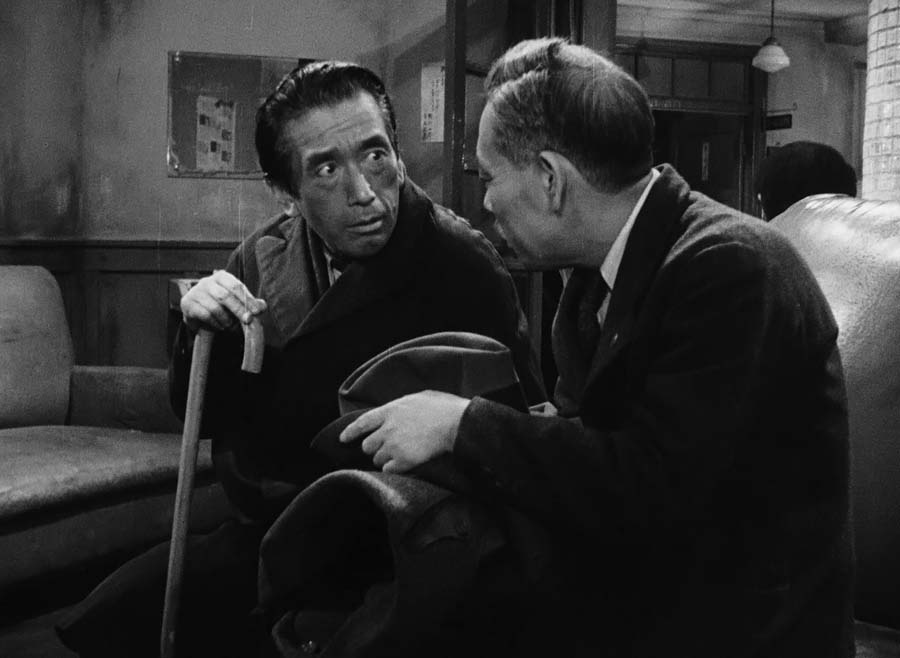 This makes Watanabe nervous and he scoots a little away from the man, who keeps talking about the symptoms: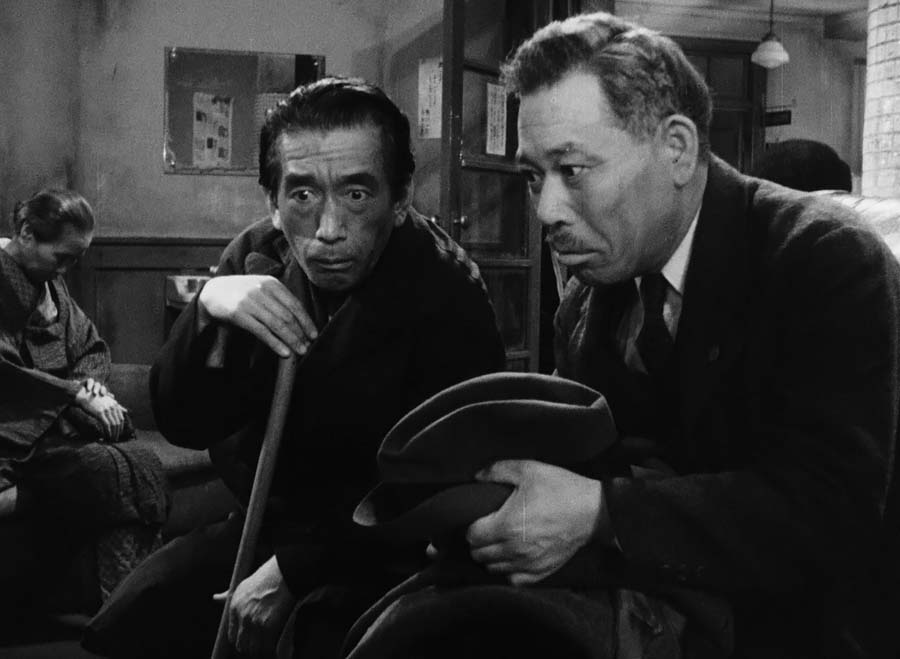 Watanabe now crosses to sit in the foreground and the man keeps talking about cancer: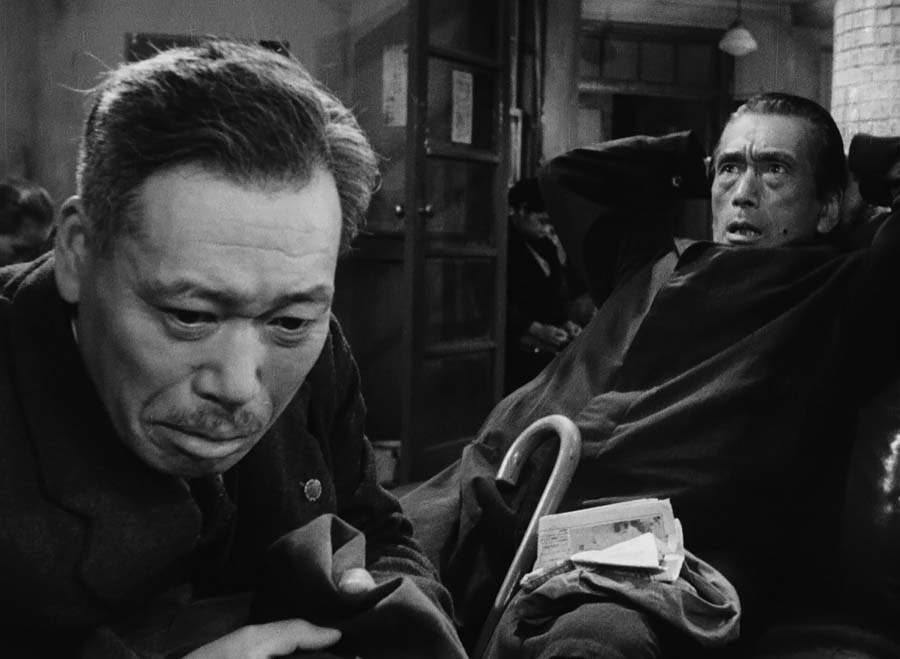 The man leans forward to finish his talk when he realizes that Watanabe probably also has cancer: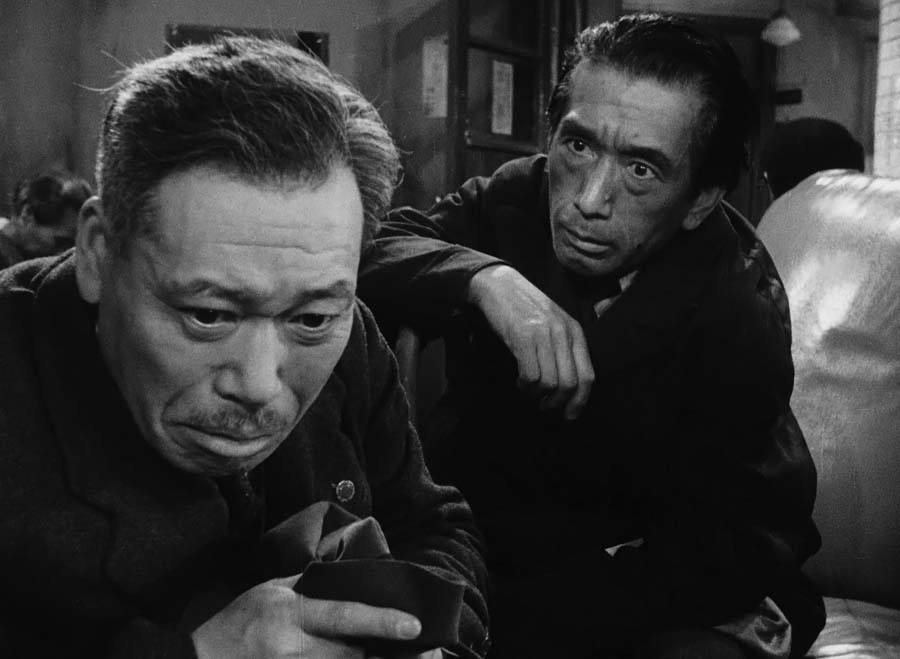 So the embarrassed man goes back to his newspaper: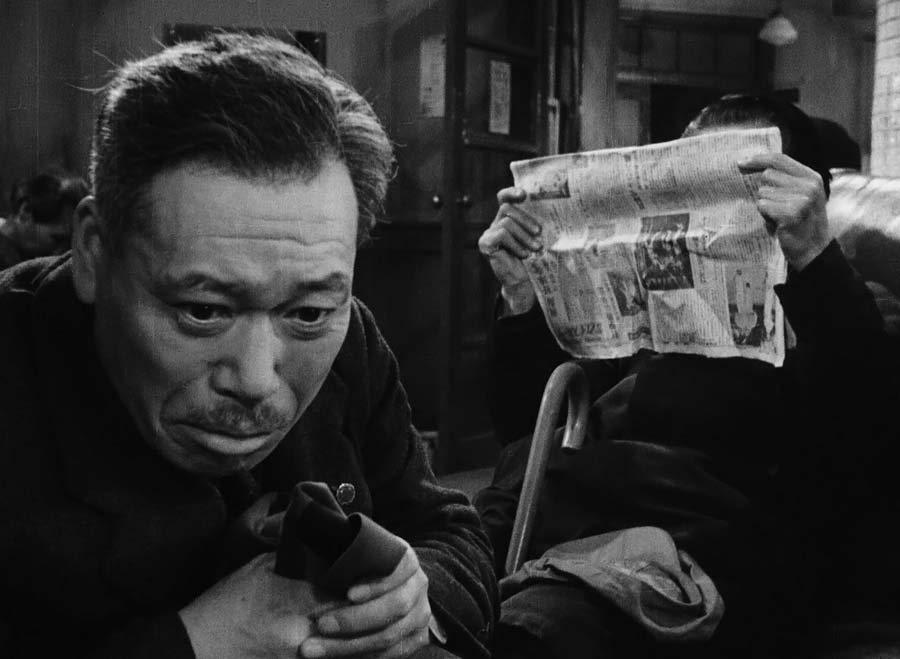 This is a great lesson in staging a sitting dialogue scene without coverage, the shot building in dramatic visual intensity just through the positioning of the actors.  It is staged in depth and shot probably at as deep a stop as Kurosawa could afford at the time, maybe an f/4 or f/5.6 at most.  I'm also guessing maybe a 40mm lens in Academy 1.37 (keep in mind that once movies started cropping to 1.85, the field of view of these lenses got tighter vertically and therefore feel a bit more telephoto than they did in Academy.)