Hello everyone!
I'm new to this forum and my first question will be about TV set lighting. I'll hope that's ok.
I've been asked by a local TV station to light several political debate that will take place in a mall. There will be two or three journalists and 6 candidates around the table. This will take place at night but the lights of the mall will still be on. That will give us an ambient lighting.
I designed two lighting plots. The first one is almost made only of fluos (kinoflos style).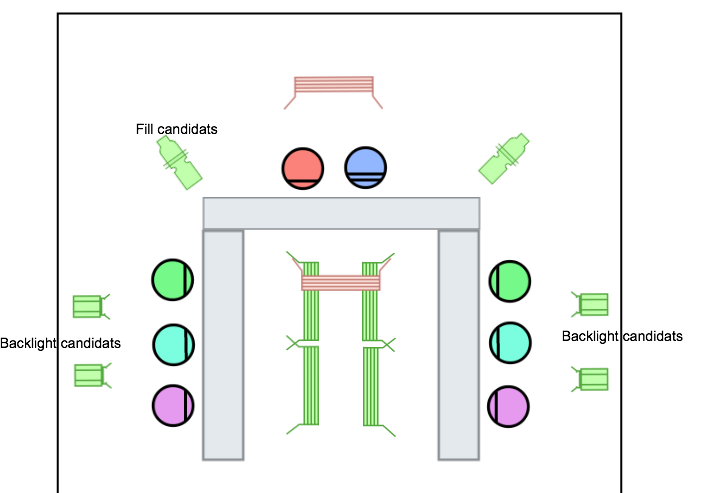 I intend to use fluos for the key lights and a few tungsten fresnel for the backlights. I also added two sources for a bit of fill.
But i'm not sure the rental company we will work with has fluorescent lights. So i designed another plot with only tungsten lights.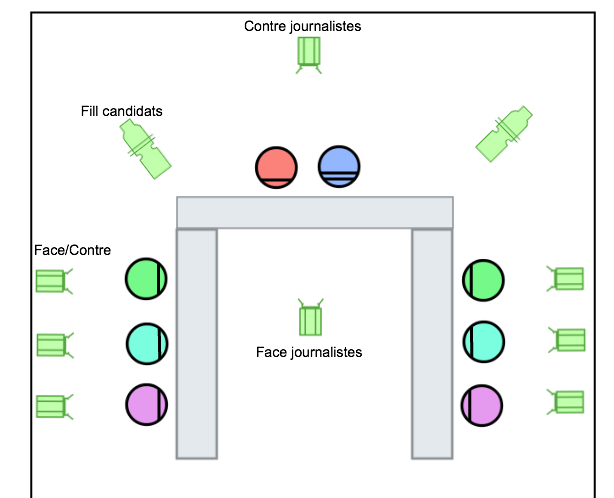 It's pretty straightforward. Everyone has its own source. Every source for the candidates are used as a key and as a backlight for the person on the opposite.
But i'm full of doubts. If i need to go for the second solution i'm not sure what power i need to choose for the lights. I guess 750w each will be enough? 
I need your opinions on those two diagrams. Are they correct or am i completely out of tune? Your advices would be very much appreciated.
Thank you everyone!
Cheers
David
P.S.: i come from Switzerland, hope my english is ok