A couple of months ago I shot my first short film as a DP. It was a small shoot, two days of prep on location and two days of shooting. 
Up until that point I had only been shooting music videos, documentaries and corporarte stuff.
This was also my first shoot with a quite larger crew. Having a gaffer and few electricians as well as one camera assistant aiding me was a real pleasure.
The thing that wasn't always that much of a pleasure though was the director. (She also wrote the script and produced the short, since it was a student film)
I had quite a few arguments with her about composition, shot sizes and blocking.
And since this was my first shoot of this genre I didn't know how to behave correctly.
Let me explain it using one scene.
We had to shoot a long dialog scene with all three actors at a dining table. I was happy meeting the director's wishes with the master shot: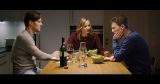 But after that the uncomfortable part began, when shooting the coverage. 
The director insisted on shooting all three actors in a clean single, close-up. Whereas I had planned to shoot OTS, medium close ups.
Then she also wanted me to frame the actors in the middle without giving them negative space nor screen direction (almost like a POV-Shot of each actor).
Thank god the sound engineer backed me and said, that even he thought that this would be looking awkward in the final edit.
There were several such moments when she would be asking someone else of a different department, whether shots made sense, the way I planned them.
Like looking for some kind of mediator. (I guess it was her first movie shoot as a director as well, having only a production assistant background)
And I also felt like being the only one on set she was arguing with that heavily.
Long story short, after a longer discussion I shot the coverage as she insisted. Since it is here movie and she's the director I thought I'd have to help her instead of battling her.
All in all it was quite an uncomfortable experience, having this fight on set with all crew being around. I wish this happened during prep and not during principal shooting.
I also shyed away from asking to be involved in the blocking during the prep-days. Because I felt unwanted there. 
Do I have the right to join the blocking sessions or is it up to the directors decision?
I know that directors are to be supported at any time during the process of shooting. But how far can they go, especially when unexperienced.
Film is art and there is no right and wrong. But how do you sustain your integrity on set? What is the common way to behave as a DP in such kinds of situations?
Thanks for sharing your experience!
Daniel